Archives For Ice
1. Oil and Gas: Spills up 18 percent in U.S. in 2013
2. Frogs' immune systems weakened by chemicals, study finds
3. Toxic Plumes: The Dark Side of Silicon Valley
4. Getting Beyond Just Wheat, Corn and Rice
Some uncommon grains have environmental advantages that could be beneficial in a changing world. But making the uncommon common can be difficult.
5. 'Cancer villages' alert China to urgent water crisis
6. Treasure Island: The People of Tangier Their Life, Land and Heritage Could Wash Away
7. Trove Of Toxic Mercury Lurks In Arctic Sea Ice
Environment: Ice-core analysis shows more methylmercury will enter Arctic food chain as climate change speeds up ice melt
8. Environment: Scientist Warn of Rising Oceans from Polar Melt
9. Wildfires: Southwest struggles to adapt to year-round fire season
10. Safety debate eyes taming Bakken crude before it hits rails
11. Feds Reach Settlement Agreement To Recall Buckyballs
12. Children of Smoking Addicts More Likely to Become Heavy Smokers
The study is the first to give an intergenerational view of the impact a parent's behavior has on children.
13. Woman, Sterile From Mom's Pregnancy Drug at 25, Gets Mother's Day Miracle Baby
14. Mine Incident: Two deaths confirmed at Patriot Coal mine in Boone County, WV
Authorities think slick road conditions played role in crash
ROCHESTER, N.H. — Rochester police said a 7-year-old girl was killed in a crash on Route 202 on Wednesday around 4:30 p.m.
According to authorities, a Chevrolet Malibu driven by Lori Weeks, 31, was traveling eastbound when she lost control and her car skidded into oncoming traffic.
The Malibu crashed into a Toyota Matrix, driven by Roberta Siderchuck, 48, in the westbound lane.
Police said Weeks and her daughter, Madison Weeks, 7, were taken to Frisbie Hospital. The daughter was transferred to Maine Medical Center where she died of her injuries.
The crash remains under investigation, but authorities said slick road conditions likely played a role in the crash.

Tim Dougherty
Stalled traffic on Interstate 285 outside Atlanta on Thursday morning.
By Erik Ortiz, Erin McClam and Lou Dubois, NBC News
A rare winter storm hatched a nightmare traffic jam that paralyzed parts of the South — especially the city of Atlanta — that is ongoing, nearly 24 hours after it began.
Here are some stories from the stranded:
'Just praying we get home safe'
Vontana Atkins, a wellness coordinator with United Cerebral Palsy of Georgia, said she had been stuck on Interstate 285, near the suburb of Marietta, since 2:30 p.m. Tuesday.
She was driving five men to their group home, a trip that should have taken 40 minutes. The men suffer various mental and physical disabilities, she said. They didn't all have their medications with them, and they've been without food and water.
"They're tired and they're hungry, but so far, so good," Atkins said. "I've been talking to them and encouraging them that we're getting there."
Traffic was at a standstill Wednesday morning. Atkins did have a cellphone charger with her, and was able to call her office and relatives of the men to let them know how they're faring.
"I called 911 several times, too, but they've been busy," she said. "We're just praying we get home safe."
They've been biding their time watching videos on Atkins' iPad and listening to gospel and country music. One thing Atkins hasn't gotten — sleep.
"I can't. I need to make sure everyone's OK," she said.
Starving and biding time
Officer Tim Sheffield talks to TODAY's Savannah Guthrie about his emergency delivery of a baby girl during a snowstorm in Georgia, saying it happened quickly and that he had experienced similar incidents in the past.
Tim Dougherty left downtown Atlanta for his home in the suburbs at about 3 p.m. Tuesday. Eighteen hours later, he was still stuck on the interstate, miles from home and with no relief in sight.
The trip normally takes half an hour.
"Tail lights. I just see tail lights," Dougherty told NBC News by phone from I-285 on Wednesday morning. "I have not moved an inch in 15 hours."
Dougherty has lived in the Atlanta area for 17 years but grew up in Indiana, so he's used to ice storms and blizzards.
"But I've never seen anything like this," he said. "I've got to say for a city, this is an epic failure."
By morning, a few people were walking down the interstate offering snacks and water. Dougherty was lucky enough to start with a full tank of gas, though he said he was down to half a tank and idling. He also had a phone charger.
Besides being frustrated, he said he was starving. And there wasn't anything to do.
"I am dominating Candy Crush," he said.
Born into gridlock – Cop who delivered baby on icy road: It was 'beautiful'
Nick and Amy Anderson
A baby born on the side of the road in Sandy Springs, Ga., on Wednesday to parents Nick and Amy Anderson.
Tim Sheffield, a police officer in Sandy Springs, Ga., was on his way to check out a traffic accident when he saw a car on the side of the road. They didn't look like they were stuck. He pulled over to check on them.
"I asked the dad: 'Are y'all broke down?' He goes, 'No, we're having a baby,'" Sheffield said.
It was a couple on their way to the hospital. The man was on the phone with a 911 dispatcher. The woman was in labor.
Sheffield said he talked them through the delivery of a baby girl. The woman "did about 99 percent of it, and the father did a lot," he recalled.
"I had time to get the gloves," he said Wednesday in an interview on TODAY. "The father started to pull, I said no, don't pull, and the baby came out, and just happened quick. It was beautiful, and it was on my birthday."
He said the new mother kept her cool the whole time.
"She was a trouper," he said. "She didn't have any anesthesia or anything, any medication or anything. It was 100 percent natural, but she did amazing. She really did."
Journey of peril
Friends Robert Warthen Jr. and James Hunt, both 52, left Atlanta at 1:30 p.m. Tuesday and were heading home to Smyrna when they got stuck in the monster gridlock. The drive should have taken 30 minutes.
Warthen said his car's battery died, and they remained stuck on the side of the road along State Route 401 on Wednesday morning.
"We're freezing to death. I'm shaking. I can't feel my feet," Warthen said, his voice choked with emotion.
Earlier in the night, the friends went to a hotel in Marietta, but they didn't have the $159 for a room. Warthen said he saw people smashing windows of parked cars and stealing items, and they decided to leave.
After getting stranded, they repeatedly called AAA, but couldn't get through.
"They could pick up the phone and say something!" Warthen said. "Not treat us like we're trash. The government's going to have a lot to answer for."
Stranded trucker: Never seen anything like it
Joe Schmitz, a trucker, was driving from Miami to Atlanta and was almost there when he got stuck at 2:30 p.m. Tuesday. More than 20 hours later, he said he hadn't moved.
"I've been driving a truck for 14 years, and I've never with my own eyes witnessed something like this," he told NBC News by phone.
He said that he knew of at least one baby who was stuck in a car without diapers — though Schmitz said he found one for her — and that truckers were taking people in to keep them warm. A truck can run for days on idle, he said.
"There are some people who are really kind of scared," he said, though he added that nobody had a bad attitude.
At about 2 a.m., he said, he walked two miles to a gas station, filled five or six bags with food and drinks, walked back and gave them to the stranded.
He said he had been told by authorities that the crisis could stretch through a second night.
Finally to school — and then stuck there
Katie Ganske, a psychologist who works in the city, got an email from E. Rivers Elementary School at about 2 p.m. Tuesday. After-school classes were canceled. She got in her car to retrieve her child.
"I looked it up later — it was seven miles, and it took me eight and a half hours," she told WXIA, the NBC affiliate in Atlanta.
By the time she arrived, just before 11 p.m., she decided to stay the night with the roughly 100 kids who were stranded at the elementary school. Her car had spun out on the drive over.
Brave rescue
Neighbors, churches and grocery stores took in strangers. And Chipper Jones, the retired and beloved Atlanta Braves third baseman, took to his 4-wheeler and rescued a former teammate who was stranded.
It started on Tuesday afternoon, when Freddie Freeman, the Braves' current first baseman, tweeted that he was stuck in the brutal jam:
By late Tuesday night, Jones' girlfriend decided to send him on a rescue mission: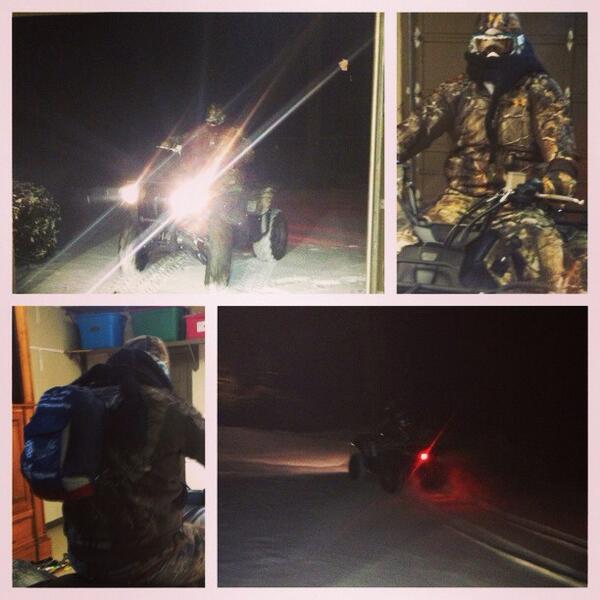 The cavalry arrived: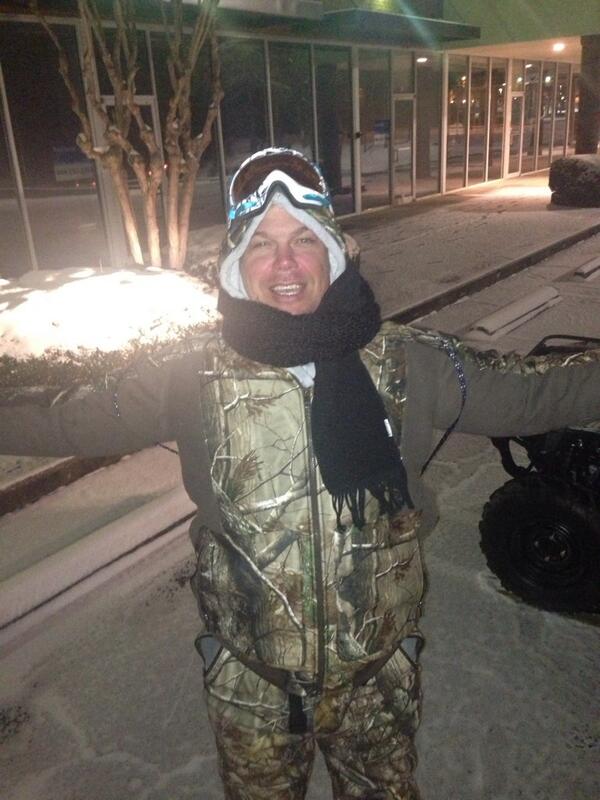 The rescue was a success: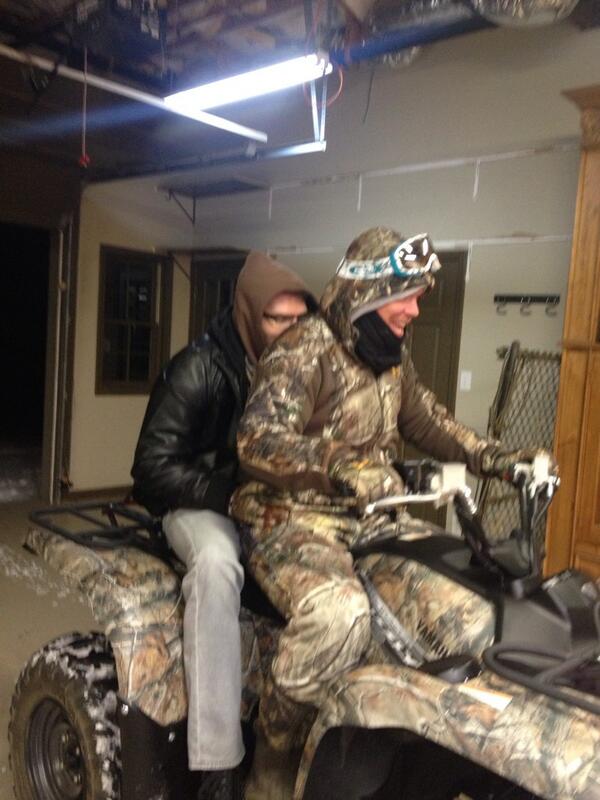 A memorable night for both of them:
Out of traffic and jumping in to help
Sheneka Adams of Atlanta was stuck in the traffic on Tuesday for four hours.
Even though she was tired, she woke up Wednesday and rushed out the door. Adams, an actress and socialite, volunteers every Wednesday with the group Kashi Atlanta to help out at a homeless shelter at Peachtree and Pine streets.
With the winter storm bearing down, she realized there would be an influx of people looking for food and warmth. She was right. There were 500 people, including children, needing a meal.
Adams and her boyfriend, Jacob York, jumped into his Jeep Cherokee and drove to Publix, where they filled an entire cart with water, bologna, cheese and bread.
"I would say we bought out the whole aisle of bread," she told NBC News.
There were so many people at the shelter, Adams made a second trip to the grocery store.
"Obviously, people have a lot of things going on today," Adams said. "But I couldn't just sit home. There are people out there who still need help."
Nadia Sikander of NBC News contributed to this report.
Snow, ice cause delays, cancellations at airports across country
BOSTON —JetBlue is temporarily shutting down operations Monday evening at several airports including Boston as the airline works to get passengers who were on delayed or canceled flights to their destinations.
The airline blamed a series of snowstorms, ice and new regulations on rest for pilots for hundreds of flight cancellations.
"One thing is for sure, the beginning of 2014 sure hasn't been kind to US aviation!" the airline wrote on its website.
Tips for surviving massive airline cancellations
Operations will be reduced at 1 p.m. at Boston's Logan International Airport, LaGuardia Airport, John F. Kennedy International Airport and Newark Liberty International Airport to "ensure recovery of our operations as efficiently as possible and be fully operable by (Tuesday.)"
The decision was made in light of weather forecasts that call for temperatures around zero and possible flash freezing.
The shutdown will last through 10 a.m. Tuesday, the airport said in a statement.
"At that time, we'll gradually ramp up again — we intend to be 100 percent operational by 3 p.m. ET. This plan allows for 17 hours of rest for our equipment and crewmembers and time to service aircraft," the airline said.
JetBlue urged customers ensure their contact information is in their record so the airline can send updated flight information.
Some passengers have been stuck at Logan for two days, sleeping on cots and in concourse chairs.
"My frustration level is here (puts hand above head) in case you want to know," JetBlue passenger Roberta Reeves said.
"We're supposed to be in the Bahamas Saturday, they want us to now land Wednesday," she said.
Passengers say they've been bumped to flights throughout the week — some as far off as five days.
"They're talking about Friday. Today is Monday," another passenger said,
There are extra patrols in place to deal with the crowds.
Flat commercial roofs are most susceptible
BOSTON —With rain in the forecast for Monday, emergency officials are warning Massachusetts residents about the dangers of roofs collapsing under the weight of heavy, wet snow.
Photos: 2011 'historic' roof collapses in Massachusetts
The rain could create roof ice dams that cause water buildup and lead to interior damage, according to the Massachusetts Emergency Management Agency.
Photos: Blizzard 2014 in pictures
"Dry, fluffy snow piled on roofs can act as a sponge, absorbing any additional moisture, adding weight and stress to structures if not cleared," MEMA Director Kurt Schwartz said in a statement. "Flat, commercial roofs are most susceptible if they are not draining properly."
Schwartz said that he also encourages everyone to make sure neighborhood storm drains are cleared to minimize local flooding.
Here are MEMA's tips for preventing a roof collapse:
-Watch out for large snow build-up or snowdrifts on roofs, especially roofs that are flat or only have a slight pitch, like on garages, carports and porches.
-Remove roof snow from the ground with a snow rake from the hardware store if possible, but avoid touching power lines with a metal snow rake.
-Avoid working from ladders because they can become icy.
-Only shovel on a flat roof if it is safe to stand upon, but be careful to avoid a potentially dangerous fall.
-Clear flat roof drainage systems to lower risk of roof ponding if there is heavy rain or melting.
-Large icicles on roof overhangs don't necessarily indicate ice damming, but they are dangerous and should be carefully removed if they are above doorways and walkways.
-Clear storm drains along curbs to prevent water from draining into cellars
-Keep neighborhood fire hydrants clear and accessible
Long-duration Nor'easter forecast
BOSTON —A significant winter storm will affect the region Thursday into Friday bringing the potential for heavy snow, strong winds, coastal flooding and possibly even blizzard conditions.
A blizzard warning was posted for eastern Plymouth and
Barnstable
counties as heavy snow will be accompanied by strong winds into Friday morning resulting in very poor visibilities.
Light snow overspread much of the region early Thursday morning, and dozens of Massachusetts school districts canceled classes.
Hour-by-hour snowfall predictor | Watch latest weather forecast
Significant snowfall will be accompanied by bitterly cold temps along with blowing and drifting snow.
There will be an impact for the Thursday evening and Friday morning rush hours, with the greater concern being for the Friday morning commute.
Boston schools will be closed Friday, Mayor Thomas Menino said.  Boston Public schools were not scheduled to be open Thursday.
Follow real-time Storm Team 5 updates
The National Weather Service has issued a winter storm warning for the entire state.
Here are 10 things to know about the storm:
If the storm follows the current track prediction, its greatest impacts will be in southern New England and along the immediate coast, including Boston.
There is a likelihood of  coastal flooding and erosion along the Massachusetts east coast Thursday and Friday.
Snow will begin late Wednesday night or early Thursday morning, but this will be a long-duration storm.
The snow will continue off-and-on during the day Thursday, with several inches falling during the day.
The storm will ramp up Thursday night and the heaviest snowfall will take place Thursday night and into the early morning hours of Friday. The worst of the storm is expected to come Thursday night into early Friday with 1 to 2 inch per hour snowfall rates.
Near blizzard conditions will be possible for a time along the eastern Massachusetts coast Thursday night into early Friday, resulting in whiteout conditions. Travel may become impossible.
There will be a widespread accumulation of 8 to 15 inches in Massachusetts inside Route 495. Areas south of Boston could see 12 to 18 inches.  Central Massachusetts, the Cape & Islands and southern New Hampshire  could see 6 to 10 inches.
The storm is not expected to stall and should be over by midday Friday.
Bitterly cold weather will follow with blowing and drifting.  Saturday morning could see temperatures at or below zero.
 The "fluff factor" with such cold weather will increase the snowfall totals.  Here's the formula:
1 inch of water at 30 degrees = 10 inches of snow
1 inch of water at 23 degrees = 15 inches of snow
1 inch of water at 17 degrees = 20 inches of snow
Electric customers to pay millions for ice storm repair
AUGUSTA, Maine —The massive damage caused by the Christmas week ice storm likely means millions of dollars in repair costs will be passed onto Maine ratepayers.
Officials tell the Portland Press Herald that the ice storm is expected to be deemed an "extraordinary storm event," allowing utilities to seek regulatory approval of an offset from ratepayers to recoup recovery costs.
It'll take time for CMP and Bangor Hydro Electric Co. to tally expenses associated with the storm that knocked out power to 160,000 Maine homes and businesses.
Bangor Hydro set a target for completing the restoration effort of New Year's Day, just a day before another winter storm is set to move into the state.
PORTLAND, Maine —The ice storm that slammed northern Vermont over the weekend is winding down – now the cleanup begins as one of the state's largest utilities said power could be out beyond Christmas.
Ice is weighing down trees and power lines, causing thousands of outages. About 17,000 people remained without electricity in Vermont Monday, mostly in Franklin, Lamoille and Orleans counties.
In Maine, tens of thousands of electric customers remain without power as the ice storm continues to put the state in a deep freeze.
Central Maine Power Co. reported nearly 29,000 people without power, a dramatic jump from the 500 outages reported Monday morning.
Bangor Hydro reported more than 14,000 customers without power early Monday afternoon. That's double the number from Monday morning.
Hancock and Washington counties are the hardest hit. The utility is blaming icing on power lines and tree limbs, but is diverting crews from less affected areas to get the power back on as soon as possible
Officials in Vermont are asking people who do not need to drive to stay inside. They are also asking neighbors to check on each other.
Airports in Burlington and Plattsburgh are open following closures Sunday.
The northern plains and the Midwest are getting ice and heavy snow and  68 million are in the path of the storm. Meteorologist Mike Bettes reports.
By Daniella Silva,
NBC
News
At least two people were killed in wild weather Saturday, as freezing rain, snow, ice and tornadoes wreaked havoc for millions of holiday travelers from the Louisiana Gulf Coast to eastern Canada.
"This is a particularly strong storm with very warm, near record-breaking temperatures in the East and very cold air in the Midwest, and that contrast is the sort of conditions that are favorable for not only winter weather but also tornadoes," National Weather Service meteorologist Ed Danaher in College Park, Md., told Reuters.
In Mississippi, two people were reported killed Saturday when strong winds swept through areas south of Memphis, the state emergency management agency said. In Coahoma County, a 43-year-old man died when winds flipped his mobile home and pinned him against a tree, NBC station WMC of Memphis reported. Another man was killed when his car hit a fallen tree in Jasper County, and a woman in the car was badly injured, The Associated Press reported.
Northwest of Coahoma in eastern Arkansas, a suspected tornado injured several people and damaged homes near the town of Hughes in eastern Arkansas, dispatcher Lynn Morgan of the Saint Francis County Sheriff's Office told Reuters.
Another suspected twister near Dermott in southeast Arkansas, damaged homes and blew four semi-trucks off a highway, said National Weather Service meteorologist David Cox in Jackson, Miss.
"We are thinking it was a tornado," Cox told Reuters. "We had quite a bit of rotation and quite a bit of damage."
More than 80,000 people in Arkansas without power on Saturday afternoon, according to utility company outage reports.
An 83-mph wind gust was reported in Hopkinsville, Kentucky, The Weather Channel reported on Twitter. A highway in the Okolona area of Louisville was closed after power lines fell onto a car dealership and nine vehicles caught fire, NBC station WAVE of Louisville reported.
High winds were also reported late Saturday in Nashville.