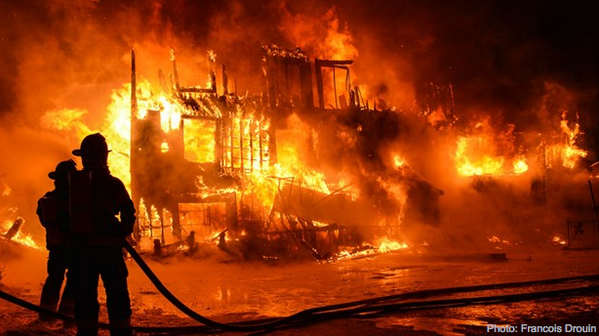 By Erik Ortiz and Miranda Leitsinger, NBC News
Neighbors of an eastern Quebec senior home watched in horror as a ferocious inferno swallowed the building early Thursday while cries for help from trapped residents could be heard from within.
At least three people were killed and 30 still missing after the blaze ravaged the 52-unit Residence du Havre in the small community of L'Isle-Verte around 12:30 a.m. ET, officials said. The death toll was expected to increase as responders accessed the smoldering structure.
Alphonse Gagnon, 79, and his wife Yvette Michaud, 73, watched the massive fire burn from their home across the street. They didn't see anyone escape, they told NBC News.
"The fire was so red, it lit up everything. … I saw all of the tragedy," Michaud said in French. "We spent the whole night watching."
Michaud said authorities set up a white tent at the site, possibly for the dead. She said a number of the residents, most older than 75, used wheelchairs or suffered from illnesses, such as Alzheimer's.
"It was frightening," said Michaud, noting that she was "shaking" as she watched the blaze, thinking about her friends inside. "It's so dreadful."
Fire Rages Through Nursing Home
A massive fire has torn through a nursing home in Quebec Canada.
Collette St. Laurent, 77, who lives near the home, said she knew people who lived inside the three-story complex.
"It's a village, everyone knows each other. It's heartbreaking, so heartbreaking," she said.
She hadn't gone by the site but fears for the missing: "They must be in the ashes. … They couldn't save them," she said.
The town's acting mayor, Ginette Caron, told reporters that most of the residents of the facility could not get around on their own, according to CTV News.
"Right now 30 people are missing. Three are confirmed dead," Quebec police spokeswoman Ann Mathieu told a televised briefing, according to Reuters.
"That does not necessarily mean 30 people have lost their lives. It's possible that some were relocated with other people. Some might be away with their families," she said.
Fire crews battled the blaze in subzero temperatures, with high winds making rescue attempts even more dangerous, said Fire Chief Yvan Charron. Some residents waited on balconies to escape the flames.
"It was a ball of fire … a total conflagration," Charron told local newspaper Info Dimanche.
"These are elderly, some of whom are very limited mobility," Charron added. "Others were afraid and they hid under blankets."
Mathieu Belanger / Reuters
Firefighters walk past the Residence du Havre after a fire in L'Isle Verte, Quebec, on Thursday.
Local chief firefighter Yvon Charron called the tragic scene "a night from hell," while witnesses described the chaotic blaze as "spreading fast as gunpowder."
Mario Michaud, a long-time resident who lives across from the complex, told NBC News he awoke just after midnight to go to the bathroom when he saw the fire from one of his windows.
"It burned, it burned … it was so engulfed in fire," Michaud, 68, said in French. "Everything is burned."
He said he saw people trapped in the home, including a woman standing on a balcony whose son tried to reach her with a ladder. Michaud went down to the street and heard cries.
"(The son) climbed up a ladder, but he wasn't able to get her down," he said.
Michaud said Thursday morning that the blaze was "still burning. It's less fire but a lot of smoke."
Initial reports said 20 residents had been transported to safety, but it was unclear just how many residents were missing in the inferno. Mathieu said Thursday authorities were trying to determine the exact number of victims and learn the cause of the blaze.
Most residents were older than 75 and 37 of them were older than 85. The building included both single rooms and apartment-style dwellings.
The fire's fury has raised questions about whether the complex, built in 1997, had functioning sprinklers.
Yves Desjardins, who helped build the residence, told CBC News that only a newer annex to the complex built in 2002 did have a sprinkler system.
A residence certification on file with Quebec's Health Ministry says the home has a partial system. It also says the building was constructed entirely of wood.
Temperatures in the region were brutally cold overnight, with wind chills still in the minus-20s at 10 a.m. ET.
L'Isle-Verte is a community on the St. Lawrence Seaway, some 150 miles northeast of Quebec City. The building was home to more than 50 people and also housed a social agency, a pharmacy and a hair salon.
Several fire departments in the region were called in to help extinguish the blaze, which completely destroyed the building.
The fire comes six months after another deadly blaze in Quebec claimed 47 lives. An unattended freight train carrying oil derailed, creating a powerful explosion that destroyed the downtown of Lac-Megantic, a community on the Maine-Quebec border.