Archives For international relations
DAVID BUIMOVITCH/AFP/GETTY IMAGES
Anja Niedringhaus, Kathy Gannon,
Anja Niedringhaus, 48, an internationally acclaimed German photographer, was killed instantly, according to an AP Television freelancer who witnessed the shooting.
Kathy Gannon, the reporter, was wounded twice and is receiving medical attention. She was described as being in stable condition and talking to medical personnel.
BY RICHARD ENGEL, JAMES NOVOGROD AND ALEXANDER SMITH
KIEV, Ukraine — A fragile truce between pro-West demonstrators and Ukraine's security forces was shattered early Thursday as deadly battles erupted once again on the streets of Kiev.
Facing sanctions from the United States and the European Union, President Viktor Yanukovych reached a truce with opposition leaders on Wednesday nightafter two days of violence that saw at least 28 people killed.
But the pact was short lived. Independence Square –- where the protest movement has camped out since November –- descended into urban warfare by 10 a.m. local time (3 a.m. ET). At least two dead bodies were seen by NBC News on Thursday.
"What truce? There is no truce!" protester Petro Maksimchuk, 23, told Reuters. "It is simply war ahead of us!"
 Watch Video: U.S. Slaps Sanctions on 20 Ukraine Officials
Death tolls in the wake of Thursday's violence varied.
The opposition-run Twitter account, @EuromaidanPR, said police snipers had opened fire from buildings above the square and that more than 30 people had been killed.
A Reuters photographer said he saw the bodies of 21 civilians lying on the ground covered by blankets on or near Independence Square.
An Associated Press reporter spotted 10 bodies laid out on the edge of the protest encampment.
Those accounts could not immediately be confirmed by NBC News.
 James Novogrod        ✔ @JamieNBCNews
A protester just was dragged by on a blanket by his comrades; the injured collected every few minutes here.
Now inside the lobby of a hotel off the square; it's become a field hospital.
Man with head wounds being comforted by nurse; he lies in her lap and motions for water.
James Novogrod        ✔ @JamieNBCNews
A small tabletop near the lobby bar now piled with medical kit, alongside the napkins and toothpicks.
However, Ukraine's Ministry of Internal Affairs said Thursday that the new violence was trigge
red when opposition snipers opened fire on police officers, killing one and injuring 29 others.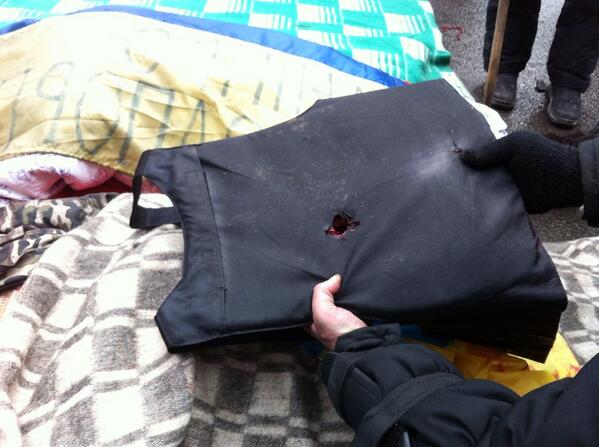 Bullets penetrated this bulletproof vest, killing one protester this morning. #euromaidan #Ukraine
Television footage showed several captured police officers were seen being led away by men wearing combat fatigues.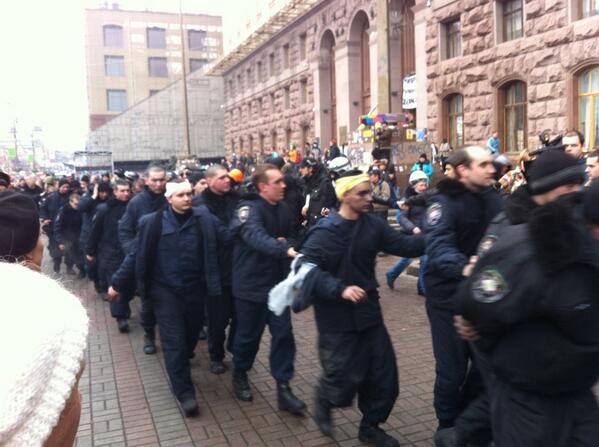 More than 50 captured police led inside the energy bldg next door to city hall
The crisis in the sprawling country of 46 million has mounted since Yanukovich pulled out of a planned far-reaching trade agreement with the European Union in November under fierce pressure from Moscow and agreed to take a $15-billion Russian bailout instead.
Protests began peacefully last year but have been increasingly characterized by smaller, more extreme elements — many aligned with the far right — who have clashed with riot police.
While the demonstrations started as a rejection of the Russia-leaning government policies, protesters said they now seek to "oust a corrupt and brutal regime," according to a post by the opposition-run "Euromaidan" Facebook group on Wednesday morning.
Tuesday's violence shattered weeks of relative calm in the capital and was sparked by Russia's announcement that it was ready to resume its loan package to the Ukraine. Some in the opposition saw this as an indication that the two countries had struck a deal and that the government was intent on standing firm against the protesters.
Ukraine's interim prime minister and Russia's Foreign Ministry have described the violence as an attempted coup.
Vitali Klitschko, the world champion boxer turned opposition leader, had backed the cease-fire with Yanukovych in a statement on his party's website Wednesday night.
But other anti-government factions, such as Dmitro Yarosh, the leader of Ukraine's far-right Pravy Sector party, rejected the agreement and vowed to continue to fight.
Maria Stromova of NBC News, The Associated Press and Reuters contributed to this report. Alexander Smith reported from London.
First published February 20th 2014, 2:59 am
RICHARD ENGEL