Archives For Tornado
My Poem of the Day
July 28, 2014
Tornado
This morning when I woke up
The sky was bright and cheery
As the moments passed
I heard the winds talking
Gathering up their strength
The sun ran for cover
The sky turned a mystical gray
There was a stillness in the air
Suddenly there was a chill to the air
Things outdoors started to toss about
The rain poured down forcefully
Trees ripped from the ground flying about like lost umbrellas
Landing on houses and cars
Houses are obliterated in seconds
People run for shelter unknowing of their fate
Screams of voices without faces
I close my eyes tightly and cover my ears
My hearts pounding
My bodies shaking
I'm counting the seconds that might be my last
As I start to pray
The warmth of the sun starts to heat upon my face
There's no longer the sound of the beating wind
Things no longer fly about the sky
I'm sad to say things no longer look the same
Once I bravely open my eyes
Some houses made it
Houses no longer have an address
Houses that are now just a shell
Trees lay flung about like scattered bricks
An oil tanker sits in the river like a soggy pillow
So much lost
Not much will ever be the same
Another clean-up starts
Send your prayers for miracles
and helping hands
Maybe together
We can all begin again
Bye hungry Tornado
Sorry you felt the need to come our way
---
Copyright 2014 Tornado©
By Felina Silver Robinson
Wellesley MA
Stoneham MA
Weather
When it is sunny outside
It makes me smile for a long while
When the clouds appear
I feel moody and uncertain
When it's dark and gloomy
It makes me feel gloomy too
When it rains outside
It makes me want to dance in circles as I did when I was a girl
My favorite weather day is a bright, cool, autumn day
With leaves changing color still upon the trees
and fallen leaves scattered about the sidewalk
I love to hear the leaves crunch under foot as I walk on by
The worst weather day is like the one we had today
When your TV sounds the warning bulletin
That there's a threat of a tornado and everyone must find shelter
I pray until the warning expires
But then it starts to thunder and the lightning crackles across the darkened sky
As if having a sword fight with a worthy opponent
Oh how I long for a clear blue sky
Copyright 2014 Weather© Felina Silver Robinson
A Mini Poem
Weather
The weather is dark and gloomy, my hearts racing, my chest is aching, fear takes over, where's my bravery?
Copyright 2014 Weather© Felina Silver Robinson
1. Stirring up forgotten lead: Smelters across US at risk from tornadoes, floods, quakes
2. Water quality tests data shows elevated lead levels in Toronto homes
Thirteen per cent of household water tests conducted in Toronto over the past six years showed unsafe levels of lead.
3. Virus experiments risk unleashing global pandemic, study warns
Benefits of scientific testing in the area are outweighed by risks of pathogenic strains spreading round world, say researchers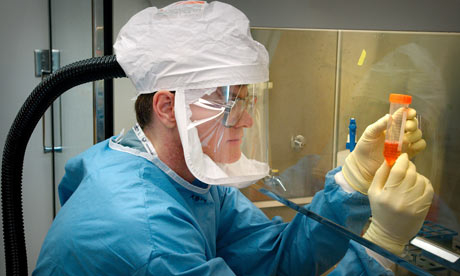 Scientists examine specimens of the 1918 pandemic influenza virus in the US. Photograph: Reuters
4.
5. Hungry for a helping of test tube meat? Maybe you should be
Lab-cultured meat, raised from stem cells, may provide the world with a plentiful, ecologically beneficial and humane source of protein, scientists say. (Krista Simmons / For The Times)
6. Probe finds scant oversight of chemical plants
7. Charismatic Minifauna
Will We Still Have Fruit if Bees Die Off?
8. In Utah Boom Town, a Spike in Infant Deaths Raises Questions
10. Tons of drowned livestock pose health threat in flood-hit Balkans; army decontaminates areas
11. Timely cleanup unlikely at state's hazardous waste sites
12. N.C. panel OKs criminalizing disclosure of chemicals in fracking