Archives For storms
Several states slammed with large hail, heavy rain that prompted handful of water rescues
Flood warnings and advisories issued for Massachusetts
BOSTON — The National Weather Service issued a series of flood warnings and advisories Sunday morning as heavy rain pelted the area with additional downpours in the forecast.
In Waltham, a large sinkhole developed on Wyman Street washing out a portion of the road.  The left travel lanes on Route 128 in Westwood were closed for a time due to flooding Sunday morning, Massachusetts State Police said.
Hour-by-hour rain futurecast |  Latest Storm Team 5 forecast
Police also closed both directions of Route 6 in Westport due to flooding. In Chelmsford, Boston Road was closed near Brian Road because of flooding, according to police. The ramp from Route 18 southbound to Route 195 in Freetown was also closed for flooding, transportation officials said.
A flood warning was issued for the North Nashua River in Fitchburg where flooding of low-lying areas along the river trapped at least two cars near an underpass on Cleghorn Street. A tow truck pulled the cars out of the flood waters.
Photos:  Flooding washes out roads, traps cars
A flash flood warning was issued for parts of Bristol County and Plymouth County where several inches of rain had fallen in just a few hours.
Video:  Flood waters trap cars in Fitchburg
"Between 2 and 5 inches of rain have fallen in just a few hours," Storm Team 5 meteorologist Danielle Vollmar said.
A flood advisory was issued for eastern Massachusetts where "heavy rainfall will cause ponding of water on highways, streets and underpasses," the weather service said.
High winds and rain overnight collapsed radio towers in Western Mass., knocking out cell phone and internet service for much of North Adams. Residents were told via a reverse 911 system to make emergency calls with their landline if necessary.
Bill Nye The Science Guy pleaded for action to address climate change in a debate Sunday with Tennessee Republican Rep. Marsha Blackburn, who called climate science "unproven."
"There is no debate in the scientific community. And I encourage the congresswoman to look at the facts," Nye, the former children's educational personality said in a debate on "Meet the Press" Sunday. "We need you to change things, not to deny what's happening."
He clashed with Blackburn, the vice chairman of the House Energy and Commerce Committee — the panel in charge of producing and overseeing energy and climate regulations.
"Neither he nor I are climate scientists. He's an engineer and actor; I'm a member of Congress," she said. Of the scientific evidence of climate change, she said: "There is not consensus there."
Blackburn said that even if she were to concede Nye's assertions about the validity of climate change, lawmakers and regulators should still look to a cost-benefit analysis of new laws and rules before imposing them.
"What we need to be looking at is the way to achieve efficiencies," she said.
Nye, who debated a noted creationist over the science behind evolution in a heavily-publicized event earlier this month, argued in favor of using every available tool to address the threat of climate change immediately.
"It would be everybody's interests to just get going," he said. "The more we mess around with this denial, the less we're going to get done."
The debate comes as the gulf between President Barack Obama and Republicans in Congress on issues of climate change continues to grow. The GOP has continued to pressure Obama to approve construction of the Keystone XL oil pipeline, for instance, and relax regulations of producing energy from "tracking."
Obama's Environmental Protection Agency (EPA), by contrast, is working to create rules that would unilaterally impose limits on carbon pollution. The executive action comes after climate change legislation — a priority of the president's upon taking office in 2009 — was passed by Democrats in the House that year, but has stalled since the GOP won control of the lower chamber in 2010.
Secretary of State John Kerry also kicked off a series of speeches on climate change this weekend, beginning with remarks in Jakarta, Indonesia on Sunday blasting deniers of climate science.
"First and foremost we should not allow a tiny minority of shoddy scientists and science and extreme ideologues to compete with scientific fact nor should we allow any room that the costs associated with doing the right thing outweigh the benefits there are people who say it is too expensive we can't do this," said Kerry, who as senator had spearheaded efforts for environmental legislation.
Watch Video: Flurry of Storms: A Result of Climate Change?
Firefighter: "We're here to serve the people…"
MANCHESTER, N.H. —A photo of a local firefighter's act of kindness during Thursday's storm is going viral.
Firefighter Tom Faucher, who was assigned to Manchester Fire Department's Engine 6 during the storm, saw an elderly woman having difficulty crossing Elm Street on Thursday afternoon. Heavy snow throughout the day made the trip difficult, so he got out of the apparatus to help her across the street.
Faucher said it was a collaborative effort between everyone on the engine. His commanding officer was the first to notice she was having a problem crossing the street, and the engine's driver positioned the truck so Faucher could safely help her across the street.
"The lady seemed to be having some trouble getting up the road," he said. "She had stopped at a snow bank right at Elm Street. I just asked her how her day was going and (asked) 'How much further to you have to walk?' and she said, 'I'm doing good. I just got to get back across the street and I'll get on my way.'"
Faucher, who has been on the fire department for a year and a half, said he's a little surprised by all the attention.
"It's just something we don't expect," Faucher said. "We come to work every day. We're here to serve the public. … I just told her to have a nice day and obviously if she needs anything, just give us a call."
The lieutenant inside the fire engine gave the order to stop traffic.
"Whether we're on duty or off duty, I assume everybody would do the same thing, help somebody out when they need a hand," Lt. Steve DesRuisseaux said.
People watching nearby snapped a few pictures, which went viral online.
An off-duty firefighter also noticed from the window of his apartment and snapped some photographs. Firefighters below didn't realize the moment was being captured on camera.
There was no word on the woman's name.
"It was snowing heavily and there was limited visibility at the time of the incident," according to the Lake County Sheriff's Office
A nurse walking in the parking lot of a northwest suburban hospital was fatally struck by a snow plow Wednesday,Lauren Jiggetts reports.
A red 2012 Ford F-450 truck with a snowplow attached was backing up in a parking lot around 5:30 a.m. at Advocate Good Shepherd Hospital in Barrington when the driver struck the woman.
"It was snowing heavily and there was limited visibility at the time of the incident," the Lake County Sheriff's Office said in a release. "The safety equipment to include the amber lights, reverse lights, and back-up alarm on the Ford were functioning following the incident."
Diane Shogren, 51, who worked for Advocate Good Shepherd Hospital, was pronounced dead at the scene, according to the Lake County Coroner's office. The driver of the Ford is also an employee of the hospital, police said.
"Our thoughts and prayers are with our associate's family and our Advocate Good Shepherd Hospital family," Good Shepherd said in a statement. "We are working closely with our chaplains and social workers to offer spiritual and emotional support at this difficult time. One of our top priorities is to provide a safe environment for patients to heal and associates to work. To that end, we will continue to partner with all parties to investigate what occurred and to take all necessary steps to ensure it doesn't happen again."
The incident remains under investigation by the Lake County Sheriff's Office Technical Crash Investigations Unit. Shogren was a married mother of adult children.
The hospital is providing counseling for her family, her coworkers and the plow driver.
Sgt. Daniel Vasselian killed in Afghanistan last December
ABINGTON, Mass. — The brother of a Massachusetts Marine killed in Afghanistan used Wednesday's snowstorm to honor him in a unique way.
Joe Vasselian, 24, built a snow sculpture in memory of his brother, Sgt. Daniel Vasselian.
The Abington native died Dec. 23 in combat operations in Helmand Province, Afghanistan.
Joe Vasselian's simple caption for the photo posted on Instagram was "love you bro."
Joe said he's always enjoyed making snowmen for his grandmother, who lives next door, but was inspired to make something to remember his brother in this recent winter storm.
Thousands of people lined the streets, roads and overpasses of Boston and surrounding suburbs in support when Sgt. Daniel Vasselian's body was brought from Logan Airport back to his hometown.

Tim Dougherty
Stalled traffic on Interstate 285 outside Atlanta on Thursday morning.
By Erik Ortiz, Erin McClam and Lou Dubois, NBC News
A rare winter storm hatched a nightmare traffic jam that paralyzed parts of the South — especially the city of Atlanta — that is ongoing, nearly 24 hours after it began.
Here are some stories from the stranded:
'Just praying we get home safe'
Vontana Atkins, a wellness coordinator with United Cerebral Palsy of Georgia, said she had been stuck on Interstate 285, near the suburb of Marietta, since 2:30 p.m. Tuesday.
She was driving five men to their group home, a trip that should have taken 40 minutes. The men suffer various mental and physical disabilities, she said. They didn't all have their medications with them, and they've been without food and water.
"They're tired and they're hungry, but so far, so good," Atkins said. "I've been talking to them and encouraging them that we're getting there."
Traffic was at a standstill Wednesday morning. Atkins did have a cellphone charger with her, and was able to call her office and relatives of the men to let them know how they're faring.
"I called 911 several times, too, but they've been busy," she said. "We're just praying we get home safe."
They've been biding their time watching videos on Atkins' iPad and listening to gospel and country music. One thing Atkins hasn't gotten — sleep.
"I can't. I need to make sure everyone's OK," she said.
Starving and biding time
Officer Tim Sheffield talks to TODAY's Savannah Guthrie about his emergency delivery of a baby girl during a snowstorm in Georgia, saying it happened quickly and that he had experienced similar incidents in the past.
Tim Dougherty left downtown Atlanta for his home in the suburbs at about 3 p.m. Tuesday. Eighteen hours later, he was still stuck on the interstate, miles from home and with no relief in sight.
The trip normally takes half an hour.
"Tail lights. I just see tail lights," Dougherty told NBC News by phone from I-285 on Wednesday morning. "I have not moved an inch in 15 hours."
Dougherty has lived in the Atlanta area for 17 years but grew up in Indiana, so he's used to ice storms and blizzards.
"But I've never seen anything like this," he said. "I've got to say for a city, this is an epic failure."
By morning, a few people were walking down the interstate offering snacks and water. Dougherty was lucky enough to start with a full tank of gas, though he said he was down to half a tank and idling. He also had a phone charger.
Besides being frustrated, he said he was starving. And there wasn't anything to do.
"I am dominating Candy Crush," he said.
Born into gridlock - Cop who delivered baby on icy road: It was 'beautiful'
Nick and Amy Anderson
A baby born on the side of the road in Sandy Springs, Ga., on Wednesday to parents Nick and Amy Anderson.
Tim Sheffield, a police officer in Sandy Springs, Ga., was on his way to check out a traffic accident when he saw a car on the side of the road. They didn't look like they were stuck. He pulled over to check on them.
"I asked the dad: 'Are y'all broke down?' He goes, 'No, we're having a baby,'" Sheffield said.
It was a couple on their way to the hospital. The man was on the phone with a 911 dispatcher. The woman was in labor.
Sheffield said he talked them through the delivery of a baby girl. The woman "did about 99 percent of it, and the father did a lot," he recalled.
"I had time to get the gloves," he said Wednesday in an interview on TODAY. "The father started to pull, I said no, don't pull, and the baby came out, and just happened quick. It was beautiful, and it was on my birthday."
He said the new mother kept her cool the whole time.
"She was a trouper," he said. "She didn't have any anesthesia or anything, any medication or anything. It was 100 percent natural, but she did amazing. She really did."
Journey of peril
Friends Robert Warthen Jr. and James Hunt, both 52, left Atlanta at 1:30 p.m. Tuesday and were heading home to Smyrna when they got stuck in the monster gridlock. The drive should have taken 30 minutes.
Warthen said his car's battery died, and they remained stuck on the side of the road along State Route 401 on Wednesday morning.
"We're freezing to death. I'm shaking. I can't feel my feet," Warthen said, his voice choked with emotion.
Earlier in the night, the friends went to a hotel in Marietta, but they didn't have the $159 for a room. Warthen said he saw people smashing windows of parked cars and stealing items, and they decided to leave.
After getting stranded, they repeatedly called AAA, but couldn't get through.
"They could pick up the phone and say something!" Warthen said. "Not treat us like we're trash. The government's going to have a lot to answer for."
Stranded trucker: Never seen anything like it
Joe Schmitz, a trucker, was driving from Miami to Atlanta and was almost there when he got stuck at 2:30 p.m. Tuesday. More than 20 hours later, he said he hadn't moved.
"I've been driving a truck for 14 years, and I've never with my own eyes witnessed something like this," he told NBC News by phone.
He said that he knew of at least one baby who was stuck in a car without diapers — though Schmitz said he found one for her — and that truckers were taking people in to keep them warm. A truck can run for days on idle, he said.
"There are some people who are really kind of scared," he said, though he added that nobody had a bad attitude.
At about 2 a.m., he said, he walked two miles to a gas station, filled five or six bags with food and drinks, walked back and gave them to the stranded.
He said he had been told by authorities that the crisis could stretch through a second night.
Finally to school — and then stuck there
Katie Ganske, a psychologist who works in the city, got an email from E. Rivers Elementary School at about 2 p.m. Tuesday. After-school classes were canceled. She got in her car to retrieve her child.
"I looked it up later — it was seven miles, and it took me eight and a half hours," she told WXIA, the NBC affiliate in Atlanta.
By the time she arrived, just before 11 p.m., she decided to stay the night with the roughly 100 kids who were stranded at the elementary school. Her car had spun out on the drive over.
Brave rescue
Neighbors, churches and grocery stores took in strangers. And Chipper Jones, the retired and beloved Atlanta Braves third baseman, took to his 4-wheeler and rescued a former teammate who was stranded.
It started on Tuesday afternoon, when Freddie Freeman, the Braves' current first baseman, tweeted that he was stuck in the brutal jam:
By late Tuesday night, Jones' girlfriend decided to send him on a rescue mission: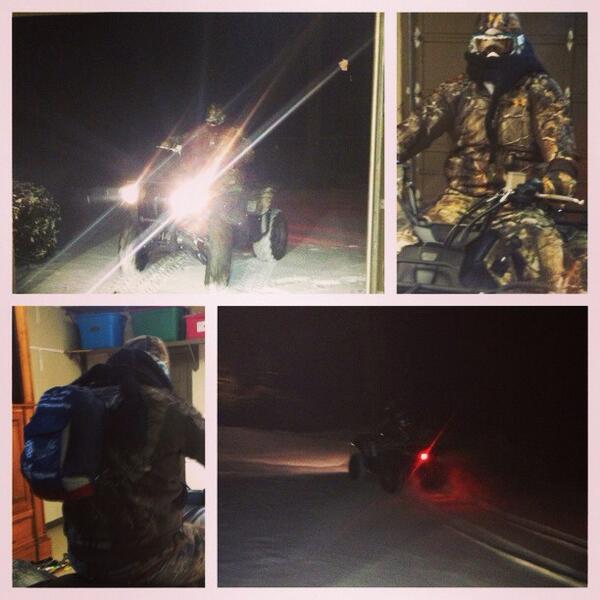 The cavalry arrived: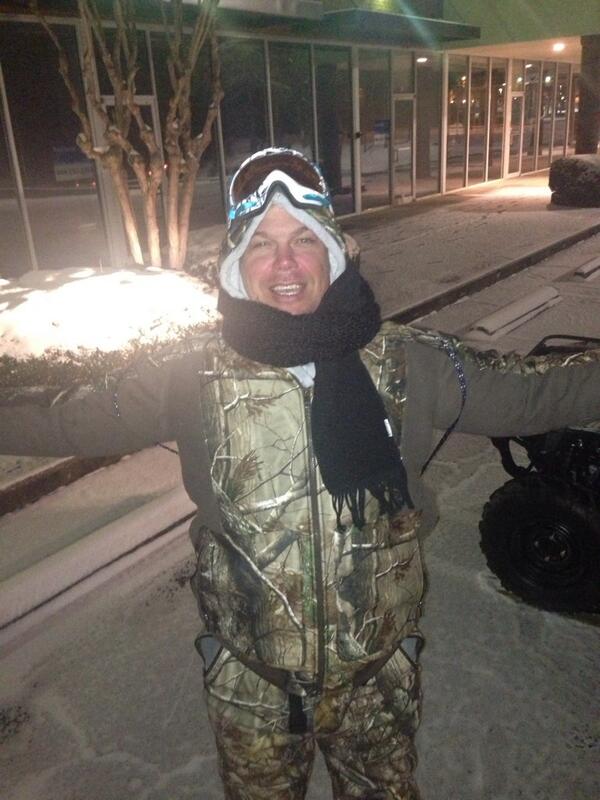 The rescue was a success: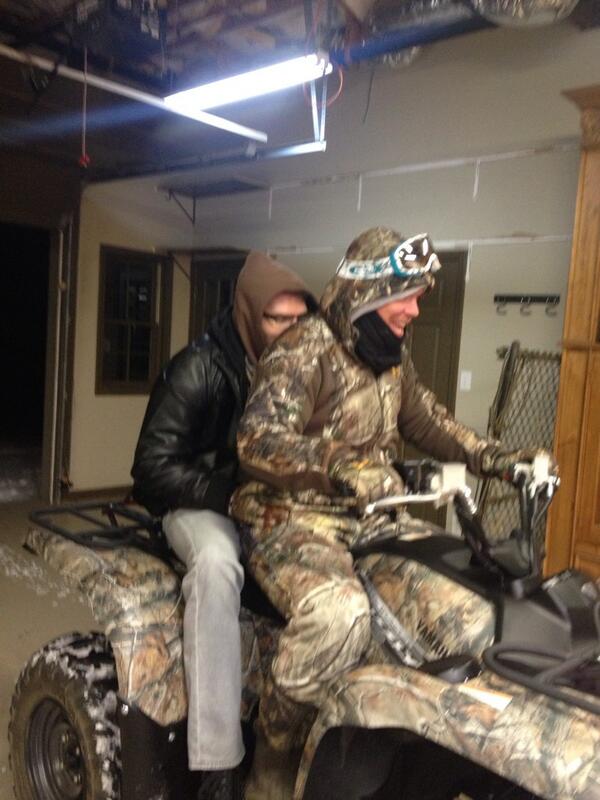 A memorable night for both of them:
Out of traffic and jumping in to help
Sheneka Adams of Atlanta was stuck in the traffic on Tuesday for four hours.
Even though she was tired, she woke up Wednesday and rushed out the door. Adams, an actress and socialite, volunteers every Wednesday with the group Kashi Atlanta to help out at a homeless shelter at Peachtree and Pine streets.
With the winter storm bearing down, she realized there would be an influx of people looking for food and warmth. She was right. There were 500 people, including children, needing a meal.
Adams and her boyfriend, Jacob York, jumped into his Jeep Cherokee and drove to Publix, where they filled an entire cart with water, bologna, cheese and bread.
"I would say we bought out the whole aisle of bread," she told NBC News.
There were so many people at the shelter, Adams made a second trip to the grocery store.
"Obviously, people have a lot of things going on today," Adams said. "But I couldn't just sit home. There are people out there who still need help."
Nadia Sikander of NBC News contributed to this report.
Coastal flood warning issued by National Weather Service
SCITUATE, Mass. —Voluntary evacuations were recommended in Duxbury and Scituate Friday as the South Shore of Massachusetts and Cape Cod saw crashing waves coming over seawalls during the third flooding tide of the storm.
In Scituate, the neighborhood around Oceanside Drive between Sixth and Seventh  Streets was flooded by the blizzard-driven waves.   Police Chief Mike Stewart said there were no plans to evacuate, even as waves continued to crash over the seawall turning the neighborhood into a lake several hours after high tide.
Watch uncut aerial video of the flooding
"This is just moderate flooding," said Stewart.  "We've seen much worse."
"A number of people have left the area, but a number have stayed there," said Town Administrator Patricia Vinchesi. "They know what these storms can do and ride it out."
Photos:  Blizzard of 2014 in pictures
"There was one request to rescue a family in Duxbury.  A number of homes were surrounded by water," said Gov. Deval Patrick, adding that flooding was also reported on the North Shore in Salisbury and Newburyport
In Cohassest, several roads, including Border Street, Margin Street and parts of Jerusalem Road, went under water for more than an hour Friday.
Late Thursday night, there was significant flooding in Duxbury at Plymouth Avenue and Gurnett Road due to a sea wall break near Marshfield border, the Massachusetts Emergency Management Agency said.
At 12:20 p.m.; the intersection of Front Street and First Parish Road near Scituate Harbor was flooded, our news partners at the Patriot Ledger reported. There was a "road closed" sign on nearby Edward Foster Road, but some drivers were ignoring the sign and driving through the icy water.
In Marshfield, Jennifer Rooney said her family was hunkered down in their Foster Avenue cottage watching the waves crashing over the sea wall and into her yard Friday afternoon.
"It's just getting worse," she said. "Supposedly, the tide should be receding, but the waves are still crashing over the wall."