Archives For Flooding
1. Stirring up forgotten lead: Smelters across US at risk from tornadoes, floods, quakes
2. Water quality tests data shows elevated lead levels in Toronto homes
Thirteen per cent of household water tests conducted in Toronto over the past six years showed unsafe levels of lead.
3. Virus experiments risk unleashing global pandemic, study warns
Benefits of scientific testing in the area are outweighed by risks of pathogenic strains spreading round world, say researchers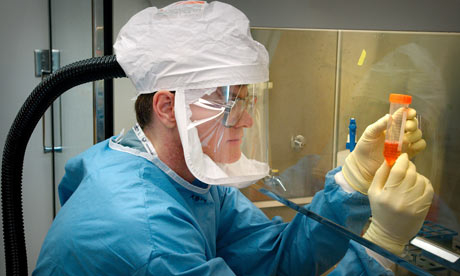 Scientists examine specimens of the 1918 pandemic influenza virus in the US. Photograph: Reuters
4.
5. Hungry for a helping of test tube meat? Maybe you should be
Lab-cultured meat, raised from stem cells, may provide the world with a plentiful, ecologically beneficial and humane source of protein, scientists say. (Krista Simmons / For The Times)
6. Probe finds scant oversight of chemical plants
7. Charismatic Minifauna
Will We Still Have Fruit if Bees Die Off?
8. In Utah Boom Town, a Spike in Infant Deaths Raises Questions
10. Tons of drowned livestock pose health threat in flood-hit Balkans; army decontaminates areas
11. Timely cleanup unlikely at state's hazardous waste sites
12. N.C. panel OKs criminalizing disclosure of chemicals in fracking
Flood warnings and advisories issued for Massachusetts
BOSTON — The National Weather Service issued a series of flood warnings and advisories Sunday morning as heavy rain pelted the area with additional downpours in the forecast.
In Waltham, a large sinkhole developed on Wyman Street washing out a portion of the road.  The left travel lanes on Route 128 in Westwood were closed for a time due to flooding Sunday morning, Massachusetts State Police said.
Hour-by-hour rain futurecast |  Latest Storm Team 5 forecast
Police also closed both directions of Route 6 in Westport due to flooding. In Chelmsford, Boston Road was closed near Brian Road because of flooding, according to police. The ramp from Route 18 southbound to Route 195 in Freetown was also closed for flooding, transportation officials said.
A flood warning was issued for the North Nashua River in Fitchburg where flooding of low-lying areas along the river trapped at least two cars near an underpass on Cleghorn Street. A tow truck pulled the cars out of the flood waters.
Photos:  Flooding washes out roads, traps cars
A flash flood warning was issued for parts of Bristol County and Plymouth County where several inches of rain had fallen in just a few hours.
Video:  Flood waters trap cars in Fitchburg
"Between 2 and 5 inches of rain have fallen in just a few hours," Storm Team 5 meteorologist Danielle Vollmar said.
A flood advisory was issued for eastern Massachusetts where "heavy rainfall will cause ponding of water on highways, streets and underpasses," the weather service said.
High winds and rain overnight collapsed radio towers in Western Mass., knocking out cell phone and internet service for much of North Adams. Residents were told via a reverse 911 system to make emergency calls with their landline if necessary.
Coastal flood warning issued by National Weather Service
SCITUATE, Mass. —Voluntary evacuations were recommended in Duxbury and Scituate Friday as the South Shore of Massachusetts and Cape Cod saw crashing waves coming over seawalls during the third flooding tide of the storm.
In Scituate, the neighborhood around Oceanside Drive between Sixth and Seventh  Streets was flooded by the blizzard-driven waves.   Police Chief Mike Stewart said there were no plans to evacuate, even as waves continued to crash over the seawall turning the neighborhood into a lake several hours after high tide.
Watch uncut aerial video of the flooding
"This is just moderate flooding," said Stewart.  "We've seen much worse."
"A number of people have left the area, but a number have stayed there," said Town Administrator Patricia Vinchesi. "They know what these storms can do and ride it out."
Photos:  Blizzard of 2014 in pictures
"There was one request to rescue a family in Duxbury.  A number of homes were surrounded by water," said Gov. Deval Patrick, adding that flooding was also reported on the North Shore in Salisbury and Newburyport
In Cohassest, several roads, including Border Street, Margin Street and parts of Jerusalem Road, went under water for more than an hour Friday.
Late Thursday night, there was significant flooding in Duxbury at Plymouth Avenue and Gurnett Road due to a sea wall break near Marshfield border, the Massachusetts Emergency Management Agency said.
At 12:20 p.m.; the intersection of Front Street and First Parish Road near Scituate Harbor was flooded, our news partners at the Patriot Ledger reported. There was a "road closed" sign on nearby Edward Foster Road, but some drivers were ignoring the sign and driving through the icy water.
In Marshfield, Jennifer Rooney said her family was hunkered down in their Foster Avenue cottage watching the waves crashing over the sea wall and into her yard Friday afternoon.
"It's just getting worse," she said. "Supposedly, the tide should be receding, but the waves are still crashing over the wall."