Archives For Earthquake
1. Stirring up forgotten lead: Smelters across US at risk from tornadoes, floods, quakes
2. Water quality tests data shows elevated lead levels in Toronto homes
Thirteen per cent of household water tests conducted in Toronto over the past six years showed unsafe levels of lead.
3. Virus experiments risk unleashing global pandemic, study warns
Benefits of scientific testing in the area are outweighed by risks of pathogenic strains spreading round world, say researchers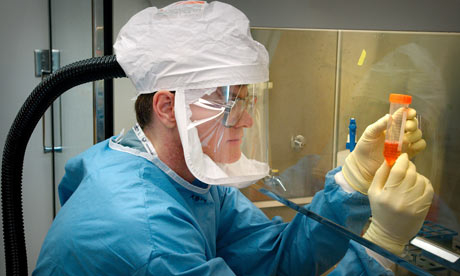 Scientists examine specimens of the 1918 pandemic influenza virus in the US. Photograph: Reuters
4.
5. Hungry for a helping of test tube meat? Maybe you should be
Lab-cultured meat, raised from stem cells, may provide the world with a plentiful, ecologically beneficial and humane source of protein, scientists say. (Krista Simmons / For The Times)
6. Probe finds scant oversight of chemical plants
7. Charismatic Minifauna
Will We Still Have Fruit if Bees Die Off?
8. In Utah Boom Town, a Spike in Infant Deaths Raises Questions
10. Tons of drowned livestock pose health threat in flood-hit Balkans; army decontaminates areas
11. Timely cleanup unlikely at state's hazardous waste sites
12. N.C. panel OKs criminalizing disclosure of chemicals in fracking
Published time: April 03, 2014 03:02
Edited time: April 03, 2014 04:31
A 7.6-magnitude aftershock has rocked the same area of northern Chile where a massive 8.2 earthquake struck on Tuesday. The earlier quake, which caused a tsunami, killed six people and forced almost one million others to evacuate.
The Wednesday quake occurred just before 02:43 GMT off the northern coast of Chile, 19 km (14 miles) south of Iquique, according to the US Geological Survey (USGS). The epicenter of the latest quake was located at a shallow depth of 40 km (24.9 miles).
Chile's emergency ministry has ordered a preventative evacuation along the northern Chilean coastline.
However there have been no official reports of damage or injury in Chile or Peru, according to Reuters.
A tsunami warning issued for Chile and Peru has been canceled, according to the Pacific Tsunami Warning Center.
"Based on all available data a destructive Pacific-wide tsunami is not expected," it said earlier. However minor tsunami waves did hit the northern coast of the country.
Chilean President Michelle Bachelet has been evacuated from the Arica coast, local media has reported.
Aftershocks measuring magnitudes of 5.6 and 5.8 occurred after the 7.6 quake, according to the USGS. Both were located around 70 to 75 km (43 to 46 miles) southwest of Inquique.
Another strong aftershock, measured at magnitude 6.4, also struck 47 km (29 miles) west of Iquique at around 01:58 GMT Wednesday evening.
This comes one day after an 8.2 magnitude quake hit 95 km (59 miles) northwest of the same area, around Iquique.
After Tuesday's quake, tsunami warnings spurred the evacuation of 900,000 people and 11 hospitals along the coastline, government officials said.
At least six people died following the quake, Chile's Interior Minister Rodrigo Penailillo said. Many of the victims died from heart attacks or falling debris.
(CNN) –
An 8.2-magnitude earthquake struck off the coast of northern Chile on Tuesday, generating a tsunami, authorities said.
The U.S. Geological Survey reported the quake, which hit at at 6:46 p.m. local time, was centered some 60 miles northwest of Iquique at a depth of 12.5 miles.
It had previously put the magnitude at 8.0 and the depth at 6.2 miles.
Chile's National Emergency Office tweeted Tuesday night that it was asking everyone to evacuate the South American nation's coast.
CNN Chile broadcast video of people in Antofagasta, a port city, walking through the streets as traffic piled up in some places. They appeared to be calm.
A tsunami warning was in effect for Chile, Peru and Ecuador.
A tsunami watch was issued for Colombia, Panama and Costa Rica, according to the Pacific Tsunami Warning Center.
"Sea level readings indicate a tsunami was generated. It may have been destructive along coasts near the epicenter and could also be a threat to more distant coasts," the center said in its evaluation.
Tsunami waves of more than 6 feet generated by the earthquake had already washed ashore on the coast of Pisagua, Chile, according to Victor Sardino with the center.
The center said nearly 7-foot waves were reported in Iquique, Chile.
There were no immediate reports of injuries, although an 8.2-magnitude earthquake is capable of causing tremendous damage.
Chile is on the so-called "Ring of Fire," an arc of volcanoes and fault lines circling the Pacific Basic that is prone to frequent earthquakes and volcanic eruptions.
About 500 people were killed when a 8.8-magnitude earthquake struck Chile on February 27, 2010. That quake triggered a tsunami that toppled buildings, particularly in the Maule region along the coast.
According to researchers, the earthquake was violent enough to move the Chilean city of Concepcion at least 10 feet to the west and Santiago about 11 inches to the west-southwest.
The tsunami threat to Hawaii still was being evaluated Tuesday. The U.S. National Tsunami Warning Center was working to determine the level of danger for Alaska, Washington, Oregon and California, as well as Canada's British Columbia.