Archives For Earthquake
1. Stirring up forgotten lead: Smelters across US at risk from tornadoes, floods, quakes
2. Water quality tests data shows elevated lead levels in Toronto homes
Thirteen per cent of household water tests conducted in Toronto over the past six years showed unsafe levels of lead.
3. Virus experiments risk unleashing global pandemic, study warns
Benefits of scientific testing in the area are outweighed by risks of pathogenic strains spreading round world, say researchers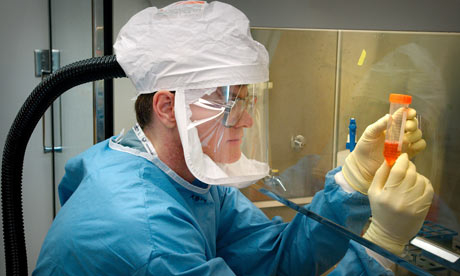 Scientists examine specimens of the 1918 pandemic influenza virus in the US. Photograph: Reuters
4.
5. Hungry for a helping of test tube meat? Maybe you should be
Lab-cultured meat, raised from stem cells, may provide the world with a plentiful, ecologically beneficial and humane source of protein, scientists say. (Krista Simmons / For The Times)
6. Probe finds scant oversight of chemical plants
7. Charismatic Minifauna
Will We Still Have Fruit if Bees Die Off?
8. In Utah Boom Town, a Spike in Infant Deaths Raises Questions
10. Tons of drowned livestock pose health threat in flood-hit Balkans; army decontaminates areas
11. Timely cleanup unlikely at state's hazardous waste sites
12. N.C. panel OKs criminalizing disclosure of chemicals in fracking
Published time: April 03, 2014 03:02
Edited time: April 03, 2014 04:31
A 7.6-magnitude aftershock has rocked the same area of northern Chile where a massive 8.2 earthquake struck on Tuesday. The earlier quake, which caused a tsunami, killed six people and forced almost one million others to evacuate.
The Wednesday quake occurred just before 02:43 GMT off the northern coast of Chile, 19 km (14 miles) south of Iquique, according to the US Geological Survey (USGS). The epicenter of the latest quake was located at a shallow depth of 40 km (24.9 miles).
Chile's emergency ministry has ordered a preventative evacuation along the northern Chilean coastline.
However there have been no official reports of damage or injury in Chile or Peru, according to Reuters.
A tsunami warning issued for Chile and Peru has been canceled, according to the Pacific Tsunami Warning Center.
"Based on all available data a destructive Pacific-wide tsunami is not expected," it said earlier. However minor tsunami waves did hit the northern coast of the country.
Chilean President Michelle Bachelet has been evacuated from the Arica coast, local media has reported.
Aftershocks measuring magnitudes of 5.6 and 5.8 occurred after the 7.6 quake, according to the USGS. Both were located around 70 to 75 km (43 to 46 miles) southwest of Inquique.
Another strong aftershock, measured at magnitude 6.4, also struck 47 km (29 miles) west of Iquique at around 01:58 GMT Wednesday evening.
This comes one day after an 8.2 magnitude quake hit 95 km (59 miles) northwest of the same area, around Iquique.
After Tuesday's quake, tsunami warnings spurred the evacuation of 900,000 people and 11 hospitals along the coastline, government officials said.
At least six people died following the quake, Chile's Interior Minister Rodrigo Penailillo said. Many of the victims died from heart attacks or falling debris.
(CNN) -
An 8.2-magnitude earthquake struck off the coast of northern Chile on Tuesday, generating a tsunami, authorities said.
The U.S. Geological Survey reported the quake, which hit at at 6:46 p.m. local time, was centered some 60 miles northwest of Iquique at a depth of 12.5 miles.
It had previously put the magnitude at 8.0 and the depth at 6.2 miles.
Chile's National Emergency Office tweeted Tuesday night that it was asking everyone to evacuate the South American nation's coast.
CNN Chile broadcast video of people in Antofagasta, a port city, walking through the streets as traffic piled up in some places. They appeared to be calm.
A tsunami warning was in effect for Chile, Peru and Ecuador.
A tsunami watch was issued for Colombia, Panama and Costa Rica, according to the Pacific Tsunami Warning Center.
"Sea level readings indicate a tsunami was generated. It may have been destructive along coasts near the epicenter and could also be a threat to more distant coasts," the center said in its evaluation.
Tsunami waves of more than 6 feet generated by the earthquake had already washed ashore on the coast of Pisagua, Chile, according to Victor Sardino with the center.
The center said nearly 7-foot waves were reported in Iquique, Chile.
There were no immediate reports of injuries, although an 8.2-magnitude earthquake is capable of causing tremendous damage.
Chile is on the so-called "Ring of Fire," an arc of volcanoes and fault lines circling the Pacific Basic that is prone to frequent earthquakes and volcanic eruptions.
About 500 people were killed when a 8.8-magnitude earthquake struck Chile on February 27, 2010. That quake triggered a tsunami that toppled buildings, particularly in the Maule region along the coast.
According to researchers, the earthquake was violent enough to move the Chilean city of Concepcion at least 10 feet to the west and Santiago about 11 inches to the west-southwest.
The tsunami threat to Hawaii still was being evaluated Tuesday. The U.S. National Tsunami Warning Center was working to determine the level of danger for Alaska, Washington, Oregon and California, as well as Canada's British Columbia.
1. 4.1 earthquake in South Carolina: What caused 'Valentine's Day Quake'? (+video)
A Valentine's Day earthquake in South Carolina alarmed millions of residents who'd just finished digging out of a rare snowstorm. Large earthquakes are rare in the Southern piedmont.
2. Alcosan adding green element to sewer system fix
The agency is looking for environmentally friendly ways to reduce stormwater entering sewers
3. Think you can't live without plastic bags? Consider this: Rwanda did it
As a post-genocide nation with a developing economy, Rwanda could have dismissed the bag ban as unnecessary. But it didn't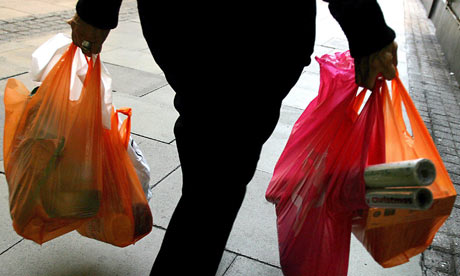 A shopper carries her shopping with free supermarket shopping bags. Photograph: ANDY RAIN/EPA
4. Paramount residents not alone in pollution fight
A Paramount case spotlights poor communities' struggle for action on local pollution sources.
5. Hoosier to play key role in regulating climate change
6. Snowfall No Longer a Sure Bet, Booming Ski Towns Fight Going Bust
As climate change makes the weather ever more unpredictable, ski towns are looking for ways to prepare for the changes ahead.
2.4-magnitude quake centered near Dartmouth
BOSTON — An earthquake was felt in southeastern Massachusetts on Tuesday afternoon.
The US Geological Service confirmed that a 2.4-magnitude quake centered near Dartmouth occurred at 5:46 p.m.
Viewers reported feeling the rumble in Fairhaven, Mattapoisett and New Bedford.
Within minutes of the jolt, WCVB's Facebook fans started commenting about what they felt.
"Jumped off the couch it was so loud in Acushnet," Lori Souza commented on Facebook.
"Heard a rumble then a boom in Fairhaven," wrote Nancy Vigeant.
"Felt it in the far north end of New Bedford. I thought the dogs were running around but they were laying still on the floor," said Greg Cormier.
There were no immediate reports of damage or injuries.
1.9 magnitude quake reported near New Bedford
BOSTON —If you think you felt the ground rumble a little bit in southeastern Massachusetts Thursday, you weren't imagining it.
According to the Weston Observatory, a 1.9 magnitude quake about seven miles northeast of New Bedford occurred at 10:52 a.m.
Several WCVB Facebook fans said they felt it.
"In Fairhaven, my whole house shook and a loud boom. Thought someone crashed into my house," one fan said.
"Thought something blew up in basement at work. Heard boom and felt a shake that lasted a second or two," another Facebook fan.
"It felt like a truck hit my house … Then like a low rumble … Def didn't think it was an earthquake…. Prob cuz I've never felt one," another Facebook fan said.
NewsCenter 5 and wcvb.com will have more details as they are available.
Did you feel the quake? Email wcvbnews@hearst.com!


By Alastair Jamieson, Staff writer,
NBC News
A 300-yard section of scenic highway near the U.S. border collapsed Saturday, sinking up to 300 feet and forcing the closure of the route, according to reports.
Mexico's federal highway authority says the collapse occurred about 58 miles south of the border city of Tijuana, according to The Associated Press. The road leads to the port city of Ensenada, on the Baja California peninsula.
The agency said it came after several earlier small earthquakes, ranging in magnitude from 1.3 to 4.3, combined with recent heavy rainfall, the AP reported.
The road had already seen evidence of fractures and sinking in recent days, according to a San Diego Union-Tribune report which said the small fractures suddenly turned into enormous cracks on the cliffside in the early hours of Saturday, plunging the highway deeper and toward the sea, with some parts caving almost 300 feet.
Afn / Handout / EPA
View of the collapsed section of the Ensenada-Tijuana highway in the Mexican state of Baja California, Saturday.
The Union-Tribune said the incident happened at the Salsipuedes stretch of highway toward Ensenada overlooking steep bluffs, only about 10 miles north of Ensenada and the San Miguel toll booth, and 56 miles south of the border.
Travelers are being diverted along an older, toll-free road further inland.
There were no victims reported and the highway will likely be closed for the next few weeks, authorities said.
Ensenada is home to the third busiest cruise ship terminal in Mexico and gateway to the rest of Baja by the sea, the Union-Tribune said.
Related: Eight bodies, some dismembered, found on Mexican highway