Archives For TV
1. Oklahoma Blood Institute Honors Cherokee Nation and CNB for Life-Saving Donations
Courtesy Cherokee Nation Businesses
CNB officials accept OBI's Business Partner of the Year Award.
2. Anti-Indian Racism Is Everywhere in America
3. CDC Awards Over $11M to Fight Chronic Diseases in Indian Country
Justin Sullivan/Getty Images
Seventeen year-old Marissa Hamilton (left) and her friend Mary Healy sprint during a timed one-mile run during fitness training at Wellspring Academy October 21, 2009 in Reedley, California. Struggling with her weight, 17-year-old Marissa Hamilton enrolled at the Wellspring Academy, a special school that helps teens and college level students lose weight along with academic courses. When Marissa first started her semester at Wellspring she weighed in at 340 pounds and has since dropped over 40 pounds of weight in the first two months of the program. According to the Centers for Disease Control and Prevention, 16 percent of children in the U.S. ages 6-19 years are overweight or obese, three times the amount since 1980.
4. Poverty, Climate Change and Indigenous Rights In Morales and Menchu Speeches
Images courtesy Wikimedia
Rigoberta Menchu, Nobel Prize winning Mayan activist, and Bolivian President Evo Morales recently spoke at the World Conference of Indigenous Peoples.
5. Finding Native American referees a priority
6. Missoula member of Native American comedy troupe calls 'Daily Show' segment 'an intense situation'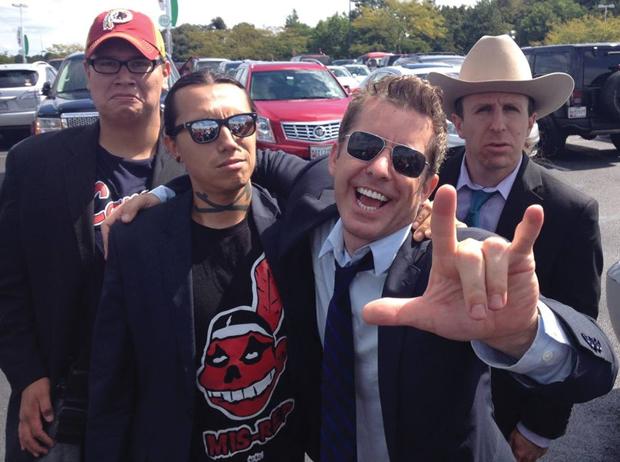 7. Five More Things You'd Never Catch a Native American Saying
George Armstrong Custer's Seventh Cavalry exacted revenge on the Native Americans who were responsible for his defeat.
8. American Indian Spiritual Song – Drums & Flute
1. Grab a Can of Diet Racism, the Drink for Racists who Think They're Not
2. Bringing Back the Bison: Tribes and First Nations Sign Historic Treaty
3. The 11 Best Moments From South Park's Anti-Redskins Season Premiere
CEO Cartman says that "pissing on public opinion is what the Washington Redskins are all about!"
4. Video: Designing for People and Place
A new way of life through sustainable housing is coming to Pine Ridge.
5. From Tipis to 21st Century Lakota Architecture
Thunder Valley Development Corporation
A local college student works from architectural plans for the new community at Thunder Valley.
6. Longtime Native Voice for Women's Rights, Deer, Speechless With Recent Honor
Sarah Deer: "Victims are not empowered through the judicial system."
7. Oglala VP: 'Our Civil Rights Are Being Violated'
Tom Poor Bear, Oglala Sioux Nation vice president, is lead plaintiff in a new voting rights lawsuit.
8. Have We Seen the Last of Longmire's Officer Mathias? A Chat With Zahn McClarnon
Zahn McClarnon as Tribal police officer Mathias on the abruptly-canceled series 'Longmire'
9. How to Recognize the Six Main Dance Styles at a Pow Wow, Part 2: Grass Dance
Smithsonian Institution, Kristine Brumley
Grass Dancer, National Pow Wow 2005
10. What Did Indigenous Peoples Get Out of the World Conference?
11. Indians, the IRS & Congress: Unlikely Partners Making Progress
As Sookie makes a decision about Bill, Eric closes in on Sarah Newlin, Violet gets kinky, and Arlene
has her moment.
Ep. 07 | Aired Aug 3, 2014
Main cast
Anna Paquin as Sookie Stackhouse, Stephen Moyer as Bill Compton, Sam Trammell as Sam Merlotte, Ryan Kwanten as Jason Stackhouse, Rutina Wesley as Tara Thornton (3 episodes), Alexander Skarsgård as Eric Northman (6 episodes), Chris Bauer as Andy Bellefleur, Kristin Bauer van Straten as Pam Swynford De Beaufort, Amelia Rose Blaire as Willa Burrell (5 episodes), Lauren Bowles as Holly Cleary, Tara Buck as Ginger (2 episodes), Anna Camp as Sarah Newlin a.k.a. Numi (4 episodes), Gregg Daniel as Reverend Daniels (5 episodes), Nelsan Ellis as Lafayette Reynolds, Aaron Christian Howles as Rocky Cleary (5 episodes), Joe Manganiello as Alcide Herveaux (3 episodes), Noah Matthews as Wade Cleary (6 episodes), Bailey Noble as Adilyn Bellefleur (6 episodes), Jim Parrack as Hoyt Fortenberry (2 episodes), Nathan Parsons as James Kent (5 episodes), Adina Porter as Lettie Mae Daniels (6 episodes), Carrie Preston as Arlene Fowler Bellefleur, Jurnee Smollett-Bell as Nicole Wright (6 episodes), Deborah Ann Woll as Jessica Hamby, Karolina Wydra as Violet Mazurski (6 episodes),