Taken from the Merriam-Webster's Encyclopedia of World Religions
Here is a dose of daily religion from A to Z.
Today's religious topic is as follows:
"Angad", also called Lehna, or Lahina (b. 1504, Matte di Sarai, India—d. 1552, Khadur), second GURÜ of Sikhs (1539-52). Angad was a sakta ("worshiper of the goddess," see SAKTI) before coming to the fold of Gurü Nanak. Angad was appointed Gurü in 1539 and was able to sustain the community after the death of Gurü Nanak and prepare it for later phases of expansion. In Sikh lore, Gurü Angad is credited with having established a set of crucial institutions; he is also said to have originated the Punjabi script, Gurmukhi, in which the ADI GRANTH is written, and to have promoted the practice of community meals (langar) that broke down CASTE barriers. However, no historically credible documents support these attributions.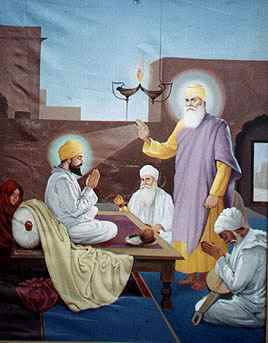 Gurü Angad
(Comeback on 10/25/14 and continue to learn about religion. Tomorrow you'll read and learn more about "Angel".
#ReligiousTopicOfTheDay, #poetsareangels.com, @FelinaSilver