Archives For Research
1. Native Americans Living in Desperate Poverty
2. Why Die?! High Teen Suicide Rate in Native American Reservations – RT 100317
3. Indian Country Prepares for Obama Visit to Standing Rock, as Chairman Dismisses Criticism
Courtesy Standing Rock Sioux Tribe
Standing Rock Sioux Tribal Chairman Dave Archambault II (right) and Tribal External Affairs Director Steve Sitting Bear (left) displaying a flag made by children at Cannon Ball Elementary School as a gift for President Barack Obama and First Lady Michelle Obama.
4. A Strange Case of Genocide Denied
5. Cliff Matias Captures the Rhythm and Energy of Dance at 20th Annual Gateway to Nations Pow Wow
6. Toast Full, Champagne-Colored Honey Moon on Friday the 13th, Then Take Cover
Stephen Rahn/Flickr via Universetoday.com
Strawberry or honey? You decide. The plump full moon rises over Georgia in June 2013.
7. HUD: $70 Million Available for Tribes to Improve Housing, Address Mold Removal
8. NCAI Applauds President Obama's Historic Visit to Indian Country
9. Snyder Tells NBC's Al Michaels Name Will Change 'Over My Dead Body'
10. Epic Paskenta Dispute Continues, Despite BIA Cease and Desist Letter
Heavily armed guards outside the Paskenta Tribe's Rolling Hills Casino in Corning, California.
11. Snow Where You're Going: Trace Ancient Inuit Trails With Interactive Atlas
A screenshot of the Pan Inuit Trails Atlas.
12. Prison Survey Reveals Cultural Needs and Benefits
Winona Stevens, a Ho-Chunk member and program manager of United Indians of all Tribes
13. Alleged Sexual Predator Impersonated Kiowa Gordon; Actor Is 'Deeply Saddened'
Source: Jasper County Sheriff's Office, via Des Moines Register; Sundance TV.
Any resemblance? 33-year-old David LaVera, left, is accused of abducting a teenage girl in Iowa. He had convinced her, and others, that he was 24-year-old actor Kiowa Gordon.
14. It's Never Easy: Getting a College Diploma in Today's America
15. Heitkamp: President's Visit Turns Nation's Attention to First Americans
1. Stirring up forgotten lead: Smelters across US at risk from tornadoes, floods, quakes
2. Water quality tests data shows elevated lead levels in Toronto homes
Thirteen per cent of household water tests conducted in Toronto over the past six years showed unsafe levels of lead.
3. Virus experiments risk unleashing global pandemic, study warns
Benefits of scientific testing in the area are outweighed by risks of pathogenic strains spreading round world, say researchers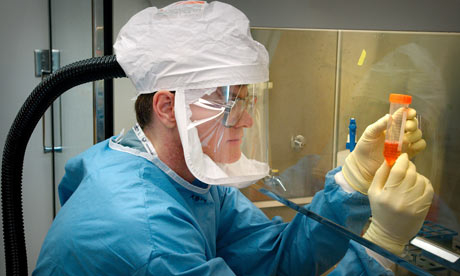 Scientists examine specimens of the 1918 pandemic influenza virus in the US. Photograph: Reuters
4.
5. Hungry for a helping of test tube meat? Maybe you should be
Lab-cultured meat, raised from stem cells, may provide the world with a plentiful, ecologically beneficial and humane source of protein, scientists say. (Krista Simmons / For The Times)
6. Probe finds scant oversight of chemical plants
7. Charismatic Minifauna
Will We Still Have Fruit if Bees Die Off?
8. In Utah Boom Town, a Spike in Infant Deaths Raises Questions
10. Tons of drowned livestock pose health threat in flood-hit Balkans; army decontaminates areas
11. Timely cleanup unlikely at state's hazardous waste sites
12. N.C. panel OKs criminalizing disclosure of chemicals in fracking
BOSTON —The Agriculture Department has fined Harvard Medical School $24,000 for violations in its care of research monkeys.
The fine announced Wednesday concerns 11 alleged violations between February 2011 and July 2012. Three caged monkeys died from accidental dehydration and one became entangled in a chain while playing with a toy.
The Boston Globe reports the USDA has fined about eight other animal research facilities in the past two years among 1,300 it regulates.
Harvard Medical School said it "cares deeply about upholding exemplary standards of care" and feels the penalty was appropriate.
Most of the violations occurred at its New England Primate Research Center in Southborough, which is closing by 2015. A smaller Boston facility will remain open. Harvard consulted an independent panel last year for recommendations on improvements at its animal research labs.