Archives For President Obama
1. Obama Reaffirms Commitment to Indian Country in Historic Visit
President Barack Obama and First Lady Michelle Obama stand with Standing Rock
Sioux Tribe Chairman Dave Archambault II on the President's historic visit to Indian country.
2. The Dangerous Dissent in State of Michigan v. Bay Mills Indian Community
3. An Agreement Is Reached Regarding Scalps at the Karl May Museum
4. Let's Move! in Indian Country to Celebrate Third Anniversary at Zuni Pueblo
Let' s Move! in Indian Country works to prevent childhood obesity in American
Indian and Alaska Native children.
5. 10 PrezRezVisit Tweets From Obama's Visit to Standing Rock
President Barack Obama poses with Native America dancers during his visit to the
Standing Rock Indian Reservation Friday, June 13, 2014, photo in Cannon Ball, N.D.
6. Native American Song by Jackie Bird for All the Fathers
7. Supreme Court rules on Native American adoption rights
8. Thousands of Native Americans are being kicked out of tribes across the US dis enrolled
9. Fake American Indians
10. Fake Natives/Mixed Bloods: My Thoughts
1. Better bubbly from … England?
2. Scientists flying over Colorado oil boom find worse air pollution
3. Research shows family environment had big impact on children exposed to lead in Port Pirie
4. U.S. Issues Safety Alert for Oil Trains
5. Is air pollution causing Vernal's neonatal deaths to rise?
Utah midwife uses obituaries to document troubling trend in birth outcomes in the area.
(Al Hartmann | The Salt Lake Tribune) Midwife Donna Young and her daughter Holt, look at a grave markers of stillborn and newborn children in Rock Point Cemetery in Maeser just north of Vernal. She started noticing a higher than usual amounts of stillborn and newborn deaths in the area the past few years. One corner of the cemetery has several small markers for stillborn and newborn deaths. The TriCounty Health Department is holding a public meeting Wednesday May 7 to investigate the uptick in stillbirths and newborn deaths in the area. Environmentalists believe there's a connection to air pollution from oil and gas drilling.
6. Vermont's GMO Bill Expected To Face Major Legal Challenges
7. Elections Not Stopping Obama Pollution Rules
8. UPDATE 1-China to close more steel capacity, though still small fraction
9. High CO2 Makes Crops Less Nutritious
Climate change could increase deficiencies in zinc and iron, new study suggests
10. Philly School District blocks a federal study after health risks are exposed
Zeituni Onyango fought deportation, granted asylum in 2010
BOSTON — Zeituni Onyango, the aunt of President Barack Obama who fought deportation, has died, the office her immigration lawyer Margaret Wong, said Tuesday.
Onyango died Tuesday at a rehabilitation hospital after being treated for cancer and respiratory ailments, according to Wong's office.
Onyango was granted asylum in 2010 after her first asylum request in 2002 was rejected and she was ordered to be deported in 2004.
She did not leave the country and continued to live in public housing in Boston. Her status was revealed just days before Obama was elected in November 2008.
At the time, then-candidate Obama said he did not know his aunt was living there illegally and that he believes laws covering the situation should be followed.
Onyango's funeral arrangements are pending.
Miriam Carey killed after car chase in Washington, D.C.
WASHINGTON — The attorney for the family of a Connecticut woman killed by police on Capitol Hill six months ago says her autopsy found she was shot multiple times from behind, including a shot to the back of the head.
Attorney Eric Sanders said on his law firm's website that the autopsy found Miriam Carey was not under the influence of alcohol or drugs. Carey was shot to death after a car chase that went from the White House to near the U.S. Capitol in October of last year. The report from Sanders said the "Carey family is understandably upset."
Calls to Sanders' office and to U.S. Capitol Police were not immediately returned late Monday.
Carey, a 34-year-old dental hygienist, tried to ram her car through a White House barrier on Oct. 3 before leading police on a chase that ended with her being killed. Her 1-year-old daughter was in the car but escaped serious injury.
Carey's relatives have challenged law enforcement accounts that she was delusional and raised questions over whether police used an appropriate level of force. Sanders has said he believes officers who shot Carey mishandled the encounter and should be prosecuted.
Carey, who had been diagnosed with postpartum depression and psychosis, told officers who responded to her Stamford, Conn., apartment prior to the Washington incident that President Barack Obama communicated with her and had set up cameras to record her life for national news outlets, police said.
In an interview Monday with the National Journal, Sanders portrayed the autopsy findings as bolstering his theory that Carey's shooting was not justified.
President Obama Hosts Champion Red Sox
NEXT VIDEO 
BALTIMORE — Boston Red Sox designated hitter David Ortiz acknowledged Wednesday that he has a promotional deal with Samsung but insisted that his selfie with President Barack Obama on Tuesday was spontaneous and not a marketing stunt.
"When people went crazy over that, you don't get to see anything like that every day," Ortiz said in the clubhouse before the Red Sox took on the Orioles at Camden Yards. "It wasn't anything promotional, anything like that. I mean, who knows that you're going to take a picture with the president? How many people can guarantee that? It was something we don't even have to talk about."
Upon being handed an honorary Red Sox jersey by Ortiz at Tuesday's World Series celebration at the White House, the president pulled Ortiz close to him and motioned toward photographers to "get a good picture."
After the two posed and photographers started snapping away, Ortiz reached into his pocket and asked, "Do you mind if I take another one, with my own?"
"He wants to do a selfie. It's the Big Papi selfie," Obama joked, getting laughs from players and spectators in attendance.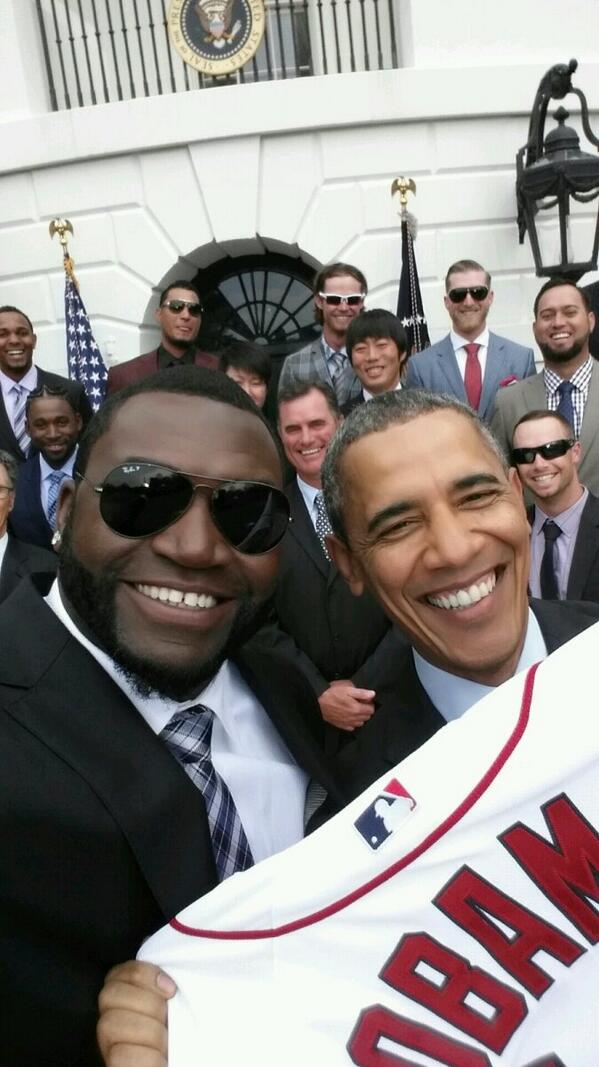 Ortiz said Wednesday it was a genuine once-in-a-lifetime moment.
"It just came out right in the moment when I gave him the jersey and he asked to take pictures," Ortiz said. "It was like, 'Oh, wait a minute, let me see if I can get away with this.' I was lucky that I was right there. It was fun. It was something I'll never forget."
Shortly after Ortiz tweeted the photo, which went out to his more than 630,000 followers and was retweeted nearly 40,000 times, Samsung retweeted it as well. The company later told the Boston Globe it "was an honor to help [Ortiz] capture such an incredible and genuine moment of joy and excitement."
Manager John Farrell, who found himself in the background of the photo, right between the heads of Ortiz and Obama, said he didn't find out until Wednesday that the moment might not have been as organic as it appeared.
"At the time I didn't know it," Farrell said in his weekly interview on Boston sports radio station WEEI. "No one can get closer to the president [than Ortiz was]. When David was on stage and kind of put his arm around [Obama] and put up a phone, it was only a moment that David Ortiz could seemingly pull off.
"I read about it this morning that this was maybe a little brought along by Samsung. … That didn't take away from a pretty special day."
Was Ortiz afraid the Secret Service might pounce on him as he reached into his pocket for his smartphone?
"We were talking about that afterwards," Ortiz said. "I think it was super cool how everybody at the White House was, how friendly, the person we see on TV, the president we all know, seeing how humble and how cool he was. Every single one of us. It was a great experience. It doesn't get any better."
Samsung famously had viral success during the Oscars last month when host Ellen DeGeneres took a star-studded selfie with her Samsung phone. The comedian gathered a gaggle of A-list stars and had Bradley Cooper take the photo of the group, which she captioned, "If only Bradley's arm was longer. Best photo ever. #oscars"
Less than an hour after she posted it on Twitter, DeGeneres' photo surpassed the previous record of 780,000 retweets of an Obama tweet after his re-election in 2012. The instantaneous surge even caused technical problems for Twitter.
In March, the president teased DeGeneres about her selfie, calling it a "pretty cheap stunt."