Archives For Cats
1) Monkey Does Push Ups & Sit Ups Like A Boss (Original)
2) Red Panda Does Gymnastic Rings Pull-Ups
3) 8 signs your cat is actually a dog
4) Booty Me Down- Dancing Apes
5) Nonstop Funny dogs & cats
22-pound cat traps family in bedroom
House cat went crazy after attacking 7-month-old baby
An Oregon family had to call 911 to save them from their 22-pound cat.
The cat had attacked a 7-month-old baby Sunday night. The baby was OK, but the family had to take refuge in a bedroom as the cat continued to rage outside, Portland TV station KATU reported.
"I kicked the cat in the rear and it has went off over the edge and we aren't safe around the cat," Lee Palmer said in a 911 call.
"The cat, we don't know what to do about the cat. He's trying to attack us. When I leave the bedroom to let the police in, I'm gonna have to fight this cat."
Officers had to use a dog snare to capture the cat and put it in a crate, The Associated Press reported.
The owners said the cat has a history of violence. It remains with the family in Portland.
1. Celebrate Valentine's Day: Stop Violence Against Indigenous Women
2. Deb Haaland Discusses Her Run for New Mexico's Lt. Governor
Deb Haaland: "It is 2014 and women are doing more and I always encourage young people to get their educations and step outside of their comfort zones and do something that they feel will have an impact on people's lives."
3. 360 Scientists Urge Environmental Protection Agency to Quash Bristol Bay Pebble Mine
Bristol Bay region of Alaska
4. Indigenous Rights Advocates Question Keith Harper Nomination
5. Niagara Falls and Sap: Valentine Poems by Alex Jacobs and Janet Rogers
Image source: Wikimedia Commons
Aerial view of Niagara Falls, flipped and superimposed.
6. Cherokee Nation's Valentines for Veterans
Cherokee Nation Immersion School sixth-graders, clockwise from left, Sinihele Rhodes, Solomon Winn, Hondo Kirk, Daylon Dunn and Liam McAlpine create Valentine cards to be given to veterans.
7. Video: 9 Romantic Songs for Valentine's Day
8. Kiowa Striker Chris Wondolowski Seeks World Cup Spot for U.S.
Striker Chris Wondolowski, Kiowa, is Seeking a spot in the World Cup
9. Native Youth, Aboriginal Midwives Announce Partnership During 'Heart Your Parts'
Native Youth Sexual Health Network Facebook
10.  Marius Redux: Another Danish Zoo Mulls Killing Second Giraffe
Seven-year-old Marius of Jyllands Park zoo in Denmark may also be doomed, like his namesake at the Copenhagen Zoo.
11. Feb. 14 Is Not V-Day, It's Global Day for Missing & Murdered Indigenous Women
Save Wiyabi Project Tumblr
12. Shawn Bales, Cherokee-Choctaw MMA Fighter, Makes Comeback Bid Saturday
Shawn Bales, center, was a champion in the Cage of Honor Super Heavyweight division of XFI.
13. Nottawaseppi Huron Band to Distribute $21.8M to State, Local Communities
Courtesy FireKeepers Casino Hotel/www.dg-studios.com
The exterior lighting of FireKeepers Casino Hotel in Battle Creek, Michigan
14. Need a Valentine's Day Cuddle? This Kitty's Cute if You Like Were-cats
15. Dan and Dave Greene Discuss Their 'Bigfoot Bounty' Experience
Ree Hines and Anna Chan TODAY
Animal Planet / Hallmark Channel
It's Puppy vs. Kitten Bowl! Which species will paw their way up the ratings?
Forget the Seahawks versus the Broncos. There's another big showdown scheduled for Sunday, one that involves ferocious, snarling, amped-up … and absolutely adorable four-legged furry friends. Yes, for the first time in game-day history, this year there will be both Puppy and Kitten Bowls.
Animal Planet's "Puppy Bowl" is back for its 10th year, while Hallmark Channel is introducing its first ever "Kitten Bowl." It's the purr-fect counter-programming for the little ones or adults who don't know a touchdown from a first down. But with both puppies and kittens huddling up viewers, who'll claw their way to a victory?
Let's take a look at their chances.
The meow mix
Let's get the obvious out of the way: Both shows are going to feature kittens. "Puppy Bowl" has long boasted of its Kitten Halftime Show, where 13 baby felines romp, dash and chase their tails to viewers' delight. This year, the midpoint will also feature some famous faces of the feline world (though no Cat Daddy, Jackson Galaxy, as far as we know — a glaring omission), and a kitten who'll parachute onto the field. Like the human Super Bowl, "Puppy Bowl's" halftime festivities will also feature musical performances.

Meanwhile, "Kitten Bowl" will be all kittens, all the time. "We are exclusively kittens. We are invested in kittens. We are believers in kittens," Hallmark President and CEO Bill Abbott told TODAY. And not just 13. "We have 71 kittens," he pointed out. The four teams of cats will participate in two preliminary playoffs before facing off in a championship game. On top of that, some of the felines even have names perfectly suited to football, including MeowShawn Lynch and Tomcat Brady, Abbott said.
Point: When it comes to pure kitten power, we have to give this to "Kitten Bowl."
Players gotta play
There's one fundamental part of any gridiron face-off: Players have to play the game. And this is one category where Marjorie Kaplan, group president of Animal Planet, believes "Puppy Bowl" has the edge.

"Cats are different than dogs, and cats don't do what you tell them to do. They do what they want to do," Kaplan pointed out to TODAY. And it's true. How many cats have you met that were successfully trained to play fetch? Dogs are pretty much the winners when it comes to chasing down and catching balls.
But don't count out the cats. "Like the 'Puppy Bowl,' (the kittens) are just getting into trouble and chasing every little thing that they can find," Abbott said. "Toy mice and balls that are going through a maze, going through the goalposts and standing."
Point: We're curious about the cats, but we think this one's going to the dogs.
Star power
Both events boast big names as part of the festivities. "Puppy Bowl's" halftime spectacular will feature the animal variety: Keyboard Cat will perform Bruno Mars' "Locked Out of Heaven," Internet sensation Lil Bub will check in, and police dogs will perform the National Anthem.

And heck, before kickoff, the pups even had a friend in high places lend them a hand.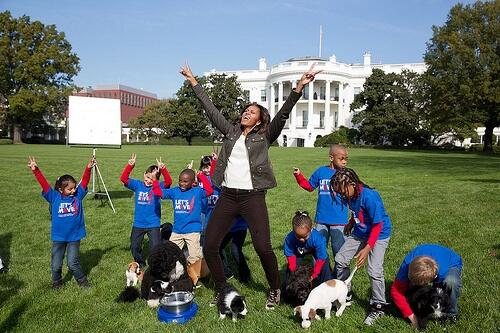 But on game day, it's "Kitten Bowl" that'll bring in the two-legged celebs. Hosting the festivities will be Beth Stern, while the announcer will be Yankees' radio voice John Sterling. There will also be appearances by TODAY's Hoda Kotb, "Dancing With the Stars" bad boy Maksim Chmerkovskiy, Regis Philbin, Rachael Ray and many others.
Point: It's a close scrape, but the felines paw their way to the top of this category by having more actual celebs.
Rough (ruff!) housing
Face it: Football is a tough sport, what with the tackles, pileups and more. And puppies? Well, they're just built for rambunctiousness. With more weight to throw around than their kitten counterparts and bigger teeth with which to chomp, the dogs will certainly be offering their own rough plays. Plus, the "Puppy Bowl" will have a wide range of body types in this full-contact pooch version of the game. Players include little Chihuahua mixes to Greyhounds to Labs to Boxers and beyond. 

The kittens? They're all roughly the same size. But they've got a weapon the puppies don't have: sharp claws. "Wait 'til you see what happens on the 'Kitten Bowl,'" Stern teased during a Monday TODAY appearance. "There were a couple of cat fights." As anyone who's been on the wrong end of those claws knows, those little slicers can cause some serious damage. And judging by some teaser clips, the lithe felines are pretty darn good at flying tackles and tumbling too.
Point: It's a tie!
Game point: By a hair (and nose and some widdle whiskers) the kittens have it! Much as we love adorable puppies and can't wait to see their high jinks, it sounds like the cats might have a tiny edge in their first bowl game.
Which bowl game will you be watching Sunday?
1442 votes
Puppy BowlKitten BowlSuper Bowl
But really, everyone who watches — and all of the feline and canine players — will be winners. Viewers are sure to be entertained, while the puppies and kittens get new homes, as both bowls are featuring shelter and rescue pets that are available for adoption.
"The kind of awareness for the shelters has been off the chart," Abbott told us. "We're going to do a lot of good with this. That's the best part."
"Puppy Bowl" starts at 3 p.m. Sunday on Animal Planet and runs in repeats well into the next morning. "Kitten Bowl" begins at noon Sunday on Hallmark Channel, with repeats ending at midnight.
— Additional reporting by Drusilla Moorhouse.
Linus the cat had been stuck in a tree for five days by the time his owner, Debbie Bitts, contacted Tom Otto.
Canopy Cat Rescue
A cat named Abbey, who was stuck in a tree around
Thanksgiving
, was rescued just in time for the holiday.
The Bitts family, of Graham, Wash., had tried everything to coax their 3-year-old tabby down. They left food at the base of the tree, and even called the fire department — but the ladder wasn't long enough to reach him. Bitts called three cat-rescue services, but no one called her back.
But when she e-mailed Otto, who runs Canopy Cat Rescuewith his brother-in-law, he came the next morning. Linus was down within the hour.
"It was fast," recalls Bitts. "Tom got up, and he was able to lean over and pet Linus. Then he said that Linus sort of walked around to him, so Tom cradled him under his arms and then, like a rock climber, he was down in seconds."
Otto and his co-rescuer, Shaun Sears, are both rock climbers. They're also certified arborists who run a separate company, Canopy Conservation, and both work as mountain guides on Mount Rainier in the summertime.
But the majority of what they do these days is rescue cats — for free.
At first, they charged a set rate for each rescue, but "folks would call and ask about the rate and get super depressed," remembers Sears. Both he and Otto are animal lovers, and they just couldn't stand the thought of cats remaining stuck in trees because no one could afford to get them down. So these days, they operate on donations.
Debbie Bitts
After his rescue, Linus the cat (pictured here with mom Debbie), slept for two days.
"People pay if they can, but the majority of folks we do cat rescues for can't pay anything," says Sears. "If they're completely broke, we'll help them out."
Sears and Otto estimate that they have rescued about 250 cats in the six years they've been at it. They work in the dark, in the rain and on holidays. They've even been known to save up to three cats a day.
Lots of treed cats eventually come down on their own, but there are plenty who can't. "Cats' claws are curved, and they have very strong hind legs, which is great for climbing up, but makes it difficult to get down," explains Dr. Rachel Robinson, a veterinarian in Redmond, Wash.
Canopy Cat Rescue
A nighttime cat rescue.
Canopy Cat Rescue handles stuck kitties all over the Puget Sound region. Sears, who lives in North Bend, Wash. usually covers the North Sound, while Otto, who lives in Olympia, has the South covered. They try to mesh their schedules so one of them is always available.
The two generally use a "big shot," a slingshot-type tool that lets them get a weighted line up over a high branch in the tree. From there, they can pull a rope over the branch, Sears says. "We climb the rope as high as needed and then swing over to reach the cat."
Amazingly, neither has ever been scratched during a rescue. "The bigger hazard is being peed on," laughs Sears.
They've had their share of memorable rescues — Sears once saved a cat stuck under an overpass in downtown Seattle, and Otto cites a recent rescue, in below-freezing temperatures, where the cat nearly landed on his head.
"Once I got her, she was shivering cold, so I held her for a little bit," he says. "Her body felt cold. It made me feel good about getting her."
A cat rescue posted to Canopy Cat's Facebook page in November.
Sears and Otto regularly post rescue pictures on their Facebook page — frantic felines meowing for help and grateful kitties snuggling their heroes.
"The pictures inspire a lot of folks that there's people who care enough to climb into a tree and rescue a cat, whether it's Thanksgiving, or two in the morning," says Sears. "It lets people know that there are folks out there willing to help out cats."
And for pet owners like Bitts, Sears and Otto's dedication makes all the difference.
"They don't have to do this," she says. "And they do it with smiles, for the whole thing. From beginning to end."