Archives For Movies
1) DIVERGENT – Final Theatrical Trailer – Official [HD] – 2014
2) DIVERGENT: 7 Things You MUST Know Before Watching the Movie
3) Divergent Movie Review
4) Divergent Stars Shailene Woodley and Theo James get WEIRD!
5) DIVERGENT Interview Shailene Woodley & Theo James!
Unflinching slavery drama "12 Years a Slave" took home the Oscar for best picture at Sunday's Academy Awards, and its star Lupita Nyong'o added to the film's trophy case by claiming the best supporting actress award.
Mario Anzuoni / Reuters
Best actor winner Matthew McConaughey, best actress winner Cate Blanchett, best supporting actress winner Lupita Nyong'o and best supporting actor winner Jared Leto pose with their Oscars.
"Everyone deserves not just to survive, but to live," director Steve McQueen said when accepting the award. "I dedicate this award to all the people who have endured slavery and the 21 million that still suffer slavery today."
London-born McQueen is the first black director to take home a best-picture award.
In a teary, heartfelt speech, Nyong'o saluted her enslaved character, Patsey, and Solomon Northup, the free black man who was kidnapped and sold into slavery in 1841, and wrote the memoir upon which the film is based. The film also won the best adapted screenplay award.
Fans of Matthew McConaughey are feeling "alright, alright" after the actor proved the road to "McConaissance" is indeed paved in Oscar gold when he won the best lead actor award for "Dallas Buyers Club," in which he plays Texan Ron Woodroof, who smuggled unapproved drugs into the United States to fight AIDS.
McConaughey, who was at one time known for his turn in rom-coms, showed off some of his charm when he gave a nod to his late father, telling the audience he envisioned him dancing around in heaven with a pot of gumbo, a lemon-meringue pie, and a cold can of Miller Lite. Naturally, he closed out his speech and a stellar awards season with his iconic line from 1993's "Dazed and Confused," shouting "alright alright alright."
LUCY NICHOLSON / Reuters
Matthew McConaughey won the best actor Oscar for "Dallas Buyers Club."
McConaughey's "Dallas Buyers Club" co-star Jared Leto won the best supporting actor award for playing transgender Texan Rayon.
"This is for the 36 million people who have lost the battle to AIDS," Leto said in his acceptance speech. "To those of you who have felt injustice because of who you love and who you are, I stand here with you and for you."
Lucy Nicholson
Hollywood's brightest stars gather to celebrate the biggest achievements in film.
But it wasn't all serious talk for Leto, who also mentioned the conflict in Ukraine during his speech. Before even winning his award, host Ellen DeGeneres joked that he was the "most beautiful" person at the ceremony (with his enviable ombre highlights and crisp tux, can you deny it?). And after he won, backstage observers reported that he was passing his Oscar around and allowing others to be photographed with it — until Academy officials requested he stop.
As expected, Cate Blanchett took home the best lead actress Oscar for her role in Woody Allen's "Blue Jasmine." Although Allen made headlines lately regarding molestation allegations involving his adoptive daughter Dylan Farrow, Blanchett acknowledged him in her acceptance speech, saying, "Thank you so much Woody for casting me, I appreciate it."
It was Blanchett's second Oscar, coming a decade after her 2004 best supporting award for "The Aviator."
On a fairly predictable night, DeGeneres lightened things up with some surprises — taking a celebrity-studded selfie, having pizza delivered to the audience, and suddenly appearing in full pink pouf as "Oz's" Glinda the Good Witch.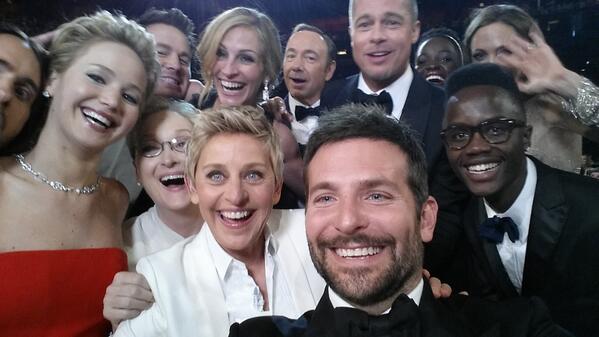 If only Bradley's arm was longer. Best photo ever. #oscars
That's not to say the broadcast was completely safe. Degeneres did get some jabs in: She praised 84-year-old nominee June Squibb, and then raised her voice and spoke slowly and loudly to the actress as if speaking to a hard-of-hearing elderly person, saying, "I'm telling everyone that you were wonderful in 'Nebraska.'" The audience, and more importantly Squibb, all got a good laugh.
Her sharpest dig of the night was a tweak of Oscar-winner Liza Minnelli, there to honor her mother Judy Garland's movie "The Wizard of Oz." As the camera cut to Minnelli, DeGeneres praised "one of the most amazing Liza Minnelli impersonators I have ever seen in my life. … Good job, sir."
The night was exceptionally starry for space drama "Gravity," which claimed numerous technical awards and the best director statuette for Alfonso Cuaron, the first Latino to win in that category.
Jordan Strauss
From dazzling gowns to sophisticated tuxedos, see which styles dominated the red carpet at the 86th annual Academy Awards.
Cuaron thanked star Sandra Bullock, saying "Sandy, you're 'Gravity.' You're the soul, heart of the film. … One of the best people I've ever met."
"Gravity's" awards included best film editing, cinematography, sound editing, best score, sound mixing and visual effects.
Disney blockbuster "Frozen" claimed the best animated feature film Oscar, and its hit song, "Let It Go," won for best original song. "Happy Oscars to you, let's do 'Frozen 2,' sang husband-and-wife winners Kristen Anderson-Lopez and Robert Lopez. The song was performed live, in a much-awaited performance, by Broadway star Idina Menzel, who voices and sings the role of Queen Elsa in the movie. Menzel took the stage after actor John Travolta mangled her name, sparking plenty of jokes on social media.
Other winners were:
Spike Jonze won the award for best original screenplay for "Her."
"Mr. Hublot" won for best animated short.
"Helium" for best live-action short film.
"The Lady in Number 6," about Alice Herz Sommer, a Holocaust survivor and concert pianist who died Feb. 23 aged 110, won for best documentary short subject.
"20 Feet from Stardom," which focuses on the backup singers behind musical legends, won for best documentary feature.
Italy's "The Great Beauty" won for best foreign-language film.
Adruitha Lee and Robin Mathews of "Dallas Buyers Club" won the award for makeup and hairstyling.
Catherine Martin won the costume design Oscar for "The Great Gatsby," an award also won by the 1974 film version of "Gatsby."
Best-known as an actor for 'Ghostbusters', 'Stripes', writer/director for 'Caddyshack', 'Groundhog Day'
Chicago Tribune reporter Mark Caro reflects on the career of Harold Ramis, who passed away at the age of 69.
Harold Ramis was one of Hollywood's most successful comedy filmmakers when he moved his family from Los Angeles back to the Chicago area in 1996. His career was still thriving, with "Groundhog Day" acquiring almost instant classic status upon its 1993 release and 1984′s "Ghostbusters" ranking among the highest-grossing comedies of all time, but the writer-director wanted to return to the city where he'd launched his career as a Second City performer.
"There's a pride in what I do that other people share because I'm local, which in L.A. is meaningless; no one's local," Ramis said upon the launch of the first movie he directed after his move, the 1999 mobster-in-therapy comedy "Analyze This," another hit. "It's a good thing. I feel like I represent the city in a certain way."
Ramis, a longtime North Shore resident, was surrounded by family when he died at 12:53 a.m. from complications of autoimmune inflammatory vasculitis, a rare disease that involves swelling of the blood vessels, his wife Erica Mann Ramis said. He was 69.
Ramis' serious health struggles began in May 2010 with an infection that led to complications related to the autoimmune disease, his wife said. Ramis had to relearn to walk but suffered a relapse of the vaculitis in late 2011, said Laurel Ward, vice president of development at Ramis' Ocean Pictures production company.
Ramis leaves behind a formidable body of work, with writing credits on such enduring comedies as "National Lampoon's Animal House" (which upon its 1978 release catapulted the film career of John Belushi, with whom Ramis acted at Second City), "Stripes" (1981) and "Ghostbusters" (in which Ramis also co-starred) plus such directing efforts as "Caddyshack" (1980), "National Lampoon's Vacation" (1983), "Groundhog Day" and "Analyze This."
Previously he was the first head writer (and a performer) on Second City's groundbreaking television series "Second City Television (SCTV)" (1976-79). More recently he directed episodes of NBC's "The Office."
Ramis' comedies were often wild, silly and tilting toward anarchy, but they also were cerebral and iconoclastic, with the filmmaker heeding the Second City edict to work at the top of one's intelligence. This combination of smart and gut-bustingly funny led a generation of comedic actors and filmmakers — including Judd Apatow ("The 40 Year Old Virgin," "Knocked Up," Jay Roach ("Meet the Parents," the "Austin Powers" movies), Peter Farrelly ("There's Something About Mary," "Dumb and Dumber"), Jake Kasdan ("Walk Hard: The Dewey Cox Story," "Orange County," both of which featured Ramis in small roles) and Adam Sandler (who starred in his own wacky golf comedy, "Happy Gilmore") — to cite him as a key inspiration.
"When I was 15, I interviewed Harold for my high school radio station, and he was the person that I wanted to be when I was growing up," said Apatow, who later would cast Ramis as Seth Rogen's father in "Knocked Up" and would produce Ramis' final movie, "Year One" (2009). "His work is the reason why so many of us got into comedy. We grew up on 'Second City TV' and 'Ghostbusters,' 'Vacation,' 'Animal House,' 'Stripes,' 'Meatballs' (which Ramis co-wrote); he literally made every single one of our favorite movies."
Ramis also left behind a reputation as a mensch and all-around good guy.
"He's the least changed by success of anyone I know in terms of sense of humor, of humility, sense of self," the late Second City founder Bernie Sahlins, who began working with Ramis in 1969, said of him in 1999. "He's the same Harold he was 30 years ago. He's had enormous success relatively, but none of it has gone to his head in any way."
Laurel Ward, vice president of development for Ramis' Ocean Pictures production company, called him "the world's best mentor." She recalled that when she first began working for him 15 years ago as his assistant, he had to be in California for a month, and he told her that although he didn't need an assistant out there, she should go anyway because it would be a good experience for her, and he'd make sure her expenses were covered.
"He just did it for me," she said. "He loved teaching people. He loved helping people. He loved seeing people succeed."
The son of Ruth and Nathan Ramis, who owned Ace Food & Liquor Mart on the West Side before moving the store and family to Rogers Park, Ramis graduated from Senn High School and Washington University in St. Louis. For his first professional writing gig, he contributed freelance arts stories to the Chicago Daily News in the mid-1960s. He also wrote and edited Playboy magazine's "Party Jokes" before and during his Second City days.
When, after some time off, he returned to Second City in 1972 to act alongside a relative newcomer in the cast, Ramis said he came to a major realization.
"The moment I knew I wouldn't be any huge comedy star was when I got on stage with John Belushi for the first time," he said in a 1999 Tribune interview. "When I saw how far he was willing to go to get a laugh or to make a point on stage, the language he would use, how physical he was, throwing himself literally off the stage, taking big falls, strangling other actors, I thought: I'm never going to be this big. How could I ever get enough attention on a stage with guys like this?
"I stopped being the zany. I let John be the zany. I learned that my thing was lobbing in great lines here and there, which would score big and keep me there on the stage."
With his round glasses lending a professorial air, Ramis would become the calm center of storms brewed by fellow actors, playing the bushy-haired, low-key wisecracker to Bill Murray's troublemaker in "Stripes" and being the most scientific-minded "Ghostbuster." Later roles included the sympathetic doctor of James L. Brooks' "As Good as It Gets" (1997) and the "Knocked Up" (2007) dad, whose dialogue, Apatow said, was almost all improvised.
Sahlins, who died last June, said he knew from the start that Ramis "would be an important factor in American comedy. He has all the skills and abilities to be funny and to write funny, but he also is a leader, a very nice guy. He was always looked up to, in Second City to being head writer at 'SCTV.' He was never separate from anybody. He was always one of the boys, but he was the best boy."
Ramis followed Belushi from Second City to New York City to work with him plus fellow Second City cast member Murray (who would collaborate with Ramis on six movies) on "The National Lampoon Radio Hour." Those three plus Gilda Radner also performed in a National Lampoon stage show produced by Ivan Reitman, who went on to produce "National Lampoon's Animal House" and to direct such Ramis scripts as "Meatballs," "Stripes," "Ghostbusters" and "Ghostbusters II" (1989).
"I always thought he was a very talented writer who always had a very perceptive and intelligent point of view about the material," Reitman told the Tribune in 1999. "He managed to get the people to speak in a realistic way but still found something funny in their voices."
Actress died surrounded by family in California
WOODSIDE, Calif. —Shirley Temple, the dimpled, curly-haired child star who sang, danced, sobbed and grinned her way into the hearts of Depression-era moviegoers has died, publicist Cheryl Kagan. She was 85.
A talented and ultra-adorable entertainer, Shirley Temple was America's top box-office draw from 1935 to 1938, a record no other child star has come near. She beat out such grown-ups as Clark Gable, Bing Crosby, Robert Taylor, Gary Cooper and Joan Crawford.
In 1999, the American Film Institute ranking of the top 50 screen legends ranked Temple at No. 18 among the 25 actresses. She appeared in scores of movies and kept children singing "On the Good Ship Lollipop" for generations.
Temple was credited with helping save 20th Century Fox from bankruptcy with films such as "Curly Top" and "The Littlest Rebel." She even had a drink named after her, an appropriately sweet and innocent cocktail of ginger ale and grenadine, topped with a maraschino cherry.
Temple blossomed into a pretty young woman, but audiences lost interest, and she retired from films at 21. She raised a family and later became active in politics and held several diplomatic posts in Republican administrations, including ambassador to Czechoslovakia during the historic collapse of communism in 1989.
"I have one piece of advice for those of you who want to receive the lifetime achievement award. Start early," she quipped in 2006 as she was honored by the Screen Actors Guild.
But she also said that evening that her greatest roles were as wife, mother and grandmother. "There's nothing like real love. Nothing." Her husband of more than 50 years, Charles Black, had died just a few months earlier.
They lived for many years in the San Francisco suburb of Woodside.
Temple's expert singing and tap dancing in the 1934 feature "Stand Up and Cheer!" first gained her wide notice. The number she performed with future Oscar winner James Dunn, "Baby Take a Bow," became the title of one of her first starring features later that year.
Also in 1934, she starred in "Little Miss Marker," a comedy-drama based on a story by Damon Runyon that showcased her acting talent. In "Bright Eyes," Temple introduced "On the Good Ship Lollipop" and did battle with a charmingly bratty Jane Withers, launching Withers as a major child star, too.
She was "just absolutely marvelous, greatest in the world," director Allan Dwan told filmmaker-author Peter Bogdanovich in his book "Who the Devil Made It: Conversations With Legendary Film Directors." "With Shirley, you'd just tell her once and she'd remember the rest of her life," said Dwan, who directed "Heidi" and "Rebecca of Sunnybrook Farm." "Whatever it was she was supposed to do – she'd do it. … And if one of the actors got stuck, she'd tell him what his line was – she knew it better than he did."
Temple's mother, Gertrude, worked to keep her daughter from being spoiled by fame and was a constant presence during filming. Her daughter said years later that her mother had been furious when a director once sent her off on an errand and then got the child to cry for a scene by frightening her. "She never again left me alone on a set," she said.
Temple became a nationwide sensation. Mothers dressed their little girls like her, and a line of dolls was launched that are now highly sought-after collectables. Her immense popularity prompted President Franklin D. Roosevelt to say that "as long as our country has Shirley Temple, we will be all right."
"When the spirit of the people is lower than at any other time during this Depression, it is a splendid thing that for just 15 cents, an American can go to a movie and look at the smiling face of a baby and forget his troubles," Roosevelt said.
She followed up in the next few years with a string of hit films, most with sentimental themes and musical subplots. She often played an orphan, as in "Curly Top," where she introduced the hit "Animal Crackers in My Soup," and "Stowaway," in which she was befriended by Robert Young, later of "Father Knows Best" fame.
She teamed with the great black dancer Bill "Bojangles" Robinson in two 1935 films with Civil War themes, "The Little Colonel" and "The Littlest Rebel." Their tap dance up the steps in "The Little Colonel" (at a time when interracial teamings were unheard-of in Hollywood) became a landmark in the history of film dance.
Some of her pictures were remakes of silent films, such as "Captain January," in which she recreated the role originally played by the silent star Baby Peggy Montgomery in 1924. "Poor Little Rich Girl" and "Rebecca of Sunnybrook Farm," done a generation earlier by Mary Pickford, were heavily rewritten for Temple, with show biz added to the plots to give her opportunities to sing.
In its review of "Rebecca," the show business publication Variety complained that a "more fitting title would be 'Rebecca of Radio City.'"
She won a special Academy Award in early 1935 for her "outstanding contribution to screen entertainment" in the previous year.
"She is a legacy of a different time in motion pictures. She caught the imagination of the entire country in a way that no one had before," actor Martin Landau said when the two were honored at the Academy Awards in 1998.
Temple's fans agreed. Her fans seemed interested in every last golden curl on her head: It was once guessed that she had more than 50. Her mother was said to have done her hair in pin curls for each movie, with every hairstyle having exactly 56 curls.
On her eighth birthday – she actually was turning 9, but the studio wanted her to be younger – Temple received more than 135,000 presents from around the world, according to "The Films of Shirley Temple," a 1978 book by Robert Windeler. The gifts included a baby kangaroo from Australia and a prize Jersey calf from schoolchildren in Oregon.
"She's indelible in the history of America because she appeared at a time of great social need, and people took her to their hearts," the late Roddy McDowall, a fellow child star and friend, once said.
Although by the early 1960s, she was retired from the entertainment industry, her interest in politics soon brought her back into the spotlight.
She made an unsuccessful bid as a Republican candidate for Congress in 1967. After Richard Nixon became president in 1969, he appointed her as a member of the U.S. delegation to the United Nations General Assembly. In the 1970s, she was U.S. ambassador to Ghana and later U.S. chief of protocol.
She then served as ambassador to Czechoslovakia during the administration of the first President Bush. A few months after she arrived in Prague in mid-1989, communist rule was overthrown in Czechoslovakia as the Iron Curtain collapsed across Eastern Europe.
"My main job (initially) was human rights, trying to keep people like future President Vaclav Havel out of jail," she said in a 1999 Associated Press interview. Within months, she was accompanying Havel, the former dissident playwright, when he came to Washington as his country's new president.
She considered her background in entertainment an asset to her political career.
"Politicians are actors too, don't you think?" she once said. "Usually if you like people and you're outgoing, not a shy little thing, you can do pretty well in politics."
Born in Santa Monica to an accountant and his wife, Temple was little more than 3 years old when she made her film debut in 1932 in the Baby Burlesks, a series of short films in which tiny performers parodied grown-up movies, sometimes with risque results.
Among the shorts were "War Babies," a parody of "What Price Glory," and "Polly Tix in Washington," with Shirley in the title role.
Her young life was free of the scandals that plagued so many other child stars – parental feuds, drug and alcohol addiction – but Temple at times hinted at a childhood she may have missed out on.
She stopped believing in Santa Claus at age 6, she once said, when "Mother took me to see him in a department store and he asked for my autograph."
After her years at the top, maintaining that level of stardom proved difficult for her and her producers. The proposal to have her play Dorothy in "The Wizard of Oz" didn't pan out. (20th Century Fox chief Darryl Zanuck refused to lend out his greatest asset.) And "The Little Princess" in 1939 and "The Blue Bird" in 1940 didn't draw big crowds, prompting Fox to let Temple go.
Among her later films were "The Bachelor and the Bobby-Soxer," with Cary Grant, and "That Hagen Girl," with Ronald Reagan. Several, including the wartime drama "Since You Went Away," were produced by David O. Selznick. One, "Fort Apache," was directed by John Ford, who had also directed her "Wee Willie Winkie" years earlier.
Her 1942 film, "Miss Annie Rooney," included her first on-screen kiss, bestowed by another maturing child star, Dickie Moore.
After her film career effectively ended, she concentrated on raising her family and turned to television to host and act in 16 specials called "Shirley Temple's Storybook" on ABC. In 1960, she joined NBC and aired "The Shirley Temple Show."
Her 1988 autobiography, "Child Star," became a best-seller.
Temple had married Army Air Corps private John Agar, the brother of a classmate at Westlake, her exclusive L.A. girls' school, in 1945. He took up acting and the pair appeared together in two films, "Fort Apache" and "Adventure in Baltimore." She and Agar had a daughter, Susan, in 1948, but she filed for divorce the following year.
She married Black in 1950, and they had two more children, Lori and Charles. That marriage lasted until his death in 2005 at age 86.
In 1972, she underwent successful surgery for breast cancer. She issued a statement urging other women to get checked by their doctors and vowed, "I have much more to accomplish before I am through."
During a 1996 interview, she said she loved both politics and show business.
"It's certainly two different career tracks," she said, "both completely different but both very rewarding, personally."
Read more: http://www.wcvb.com/entertainment/iconic-child-star-shirley-temple-dies/24405572#ixzz2t0oJYphS
Harris Hasty Pudding 2014 Man of the Year
CAMBRIDGE, Mass. — Neil Patrick Harris, dressed in a wig, lingerie and red heels, took the stage at Harvard University on Friday to accept the 2014 Man of the Year Award from America's oldest undergraduate drama troupe.
The "How I Met Your Mother" star cast a few spells, saved someone's life and sang a jingle from "Rent" before being awarded the Hasty Pudding Theatricals' annual Pudding Pot.
Photos: Harris accepts Hasting Pudding Pot
"I felt remarkably good in heels," Harris said after the ceremony, adding that he had spent seven hours stomping around in custom heels to practice.
Harris was showered with ridicule by the show's roasters, who said he was best known for 200 episodes of "crappy" television.
The Emmy Award-winning actor has spent 25 years in entertainment playing roles in TV, in film and on stage, where he has sung, danced and even performed magic tricks. He also has hosted the Tony and Emmy awards.
One of the roasters said, "Those who can't do host, and those who can't host host the Spike TV Video Game Awards," which Harris hosted in 2010.
Harris, who has appeared in the "Harold & Kumar" and "The Smurfs" movies and has starred in three Broadway plays, is most recently known for his role as suave ladies' man Barney Stinson on "How I Met Your Mother," a hit CBS comedy in its ninth and final season. He said he broke Barney's bro code on Friday night by kissing two guys in dresses on the lips.
In his earlier days, Harris played a teenage doctor on the TV comedy "Doogie Howser, M.D." He had to tap into his medical expertise on stage Friday to save a choking Jason Segel, his "How I Met Your Mother" co-star, who won the Pudding Pot award two years ago.
Harris said chuckling that Segel gave him a joke to use for Friday's show but forgot to mention that he used the same joke when he was in Cambridge to accept his award.
After Friday's roast, Harris attended the theatre's debut production of "Victorian Secrets," a play about a secret society of Harvard students in the 18th century.
The 2014 Woman of the Year was "Red" and "The Queen" actress Helen Mirren, who visited Harvard last week to accept her award and showed off her twerking skills.
The actor Philip Seymour Hoffman was found dead in his New York apartment on Sunday morning of an apparent drug overdose, according to a law enforcement official who requested anonymity because he was not certain the actor's family had been informed of the death.
The official said Mr. Hoffman, 46, was found in his West Village apartment around 11:30 a.m. by a friend who had become concerned at not being able to reach Mr. Hoffman.
Investigators found a syringe in his arm and an envelope containing what is believed to be heroin, the official said.
"It's pretty apparent that it was an overdose," the official said. "The syringe was in his arm."
Mr. Hoffman won the Academy Award for Best Actor his role in the 2005 film "Capote," in which he portrayed the writer Truman Capote.
He had undergone treatment for drug addiction in the past, and spoke in interviews about "falling off the wagon" last year after remaining clean for 23 years.
A woman answering the phone at Mr. Hoffman's New York production company declined to comment. "I don't have a comment at this time on that, thank you," she said.
Woman says people trespassing, bothering neighbors
BURRILLVILLE, R.I. — The owner of a reputedly haunted house in Rhode Island depicted in the horror movie "The Conjuring" says the film has given her nothing but real-life nightmares.
The flick portrayed Norma Sutcliffe's 18th century farmhouse in Burrillville as haunted by malevolent spirits that tormented the Perrons, a real-life family that owned the property in the 1970s. It was filmed in North Carolina.
Sutcliffe told The Providence Journal that since the movie came out, people have trespassed on her property, posted her family's personal information on the Internet and bothered her neighbors.
Sutcliffe says she doesn't believe her house is haunted by ghosts or spirits.
Andrea Perron, who lived in the home as a child, says her family experienced an "extreme haunting" by an evil spirit at the house.
1 dead after movie theater shooting
A 71-year-old former police captain is in custody after allegedly shooting and killing 43-year-old Chad Oulsen and injuring his wife over a texting dispute during a movie. NBC's Katy Tur reports.
By M. Alex Johnson, Staff Writer, NBC News
The retired Tampa police captain accused of gunning down a man texting during a Mark Wahlberg war movie will be arraigned on a second-degree murder charge Tuesday in a Florida court.
Curtis Reeves Jr., 71, is charged with shooting Chad Oulson, 43, the Pasco County Sheriff's Office said Monday, after a verbal and physical confrontation.
Chad Oulson was pronounced dead at a hospital, and his wife, Nichole, was treated for a gunshot wound to her hand.
"To have a retired police officer — I don't know what he was thinking at the time," Pasco County Sheriff Chris Nocco told reporters. "I can tell you, anybody, over a cellphone, to take their life, it's ridiculous."
Reeves remained in Pasco County jail overnight Monday, and a judge could decide Tuesday whether to set bail.
Officials are crediting an off-duty sheriff's deputy from neighboring Sumter County for detaining Reeves at the Grove 16 Theatre in Wesley Chapel, north of Tampa. The deputy also secured the weapon, described as a .380-calber handgun, until Pasco authorities arrived, Nocco said.
"He was a true hero in there. He reacted," said Nocco, who also praised the efforts of two nurses who were in the theater and tried to save Oulson's life.
Nocco said that when when the first emergency calls came in, his mind immediately turned to recent shootings at schools and movie theaters, an apparent reference to the mass killings at a theater in Aurora, Colo., in July 2012, and at Sandy Hook Elementary School in Newtown, Conn., just five months later.
"Hearing what we heard, we were prepared for a large incident, but I want to reiterate this was just an isolated incident," he said.
"This situation over a cellphone use — to escalate that high, I can tell you it's very scary," he said. "Or the fact it's a movie theater or, you know, a place such as a school, where people have a belief that they should be in a movie theater to relax or a school to learn and have it arise to this kind of level."
Nocco said the tragedy unfolded after Reeves became outraged over something trivial: "somebody texting."
Reeves and his wife were sitting behind the Oulsons as the preview trailers were rolling just before the showing of "Lone Survivor," the Mark Wahlberg movie about a failed 2007 Navy Seal raid in Afghanistan, investigators said.
Reeves asked Chad Oulson several times to stop, to no avail, Nocco said. He then left the theater to complain to the theater's management before returning to his seat, the sheriff said.
Upon his return, "Chad Oulson then starts confronting him verbally, starts saying: 'Oh, did you go in there and start complaining on me? Did you tell the staff about me?'" Nocco said.
"This verbal altercation starts getting louder and louder. During this altercation, it goes from a verbal to a physical altercation," he said.
Then, "the suspect, Curtis Reeves, pulled out a gun," Nocco said.
Only one shot was fired, Nocco said. Nichole Oulson was wounded in the hand when she grabbed her husband as Reeves pulled the trigger, he said.
The theater's operator, Cobb Theatres, said in a statement that it was "truly heartbroken by this incident" and that it was cooperating with investigators.
Reeves retired as a captain from the Tampa Police Department in 1993, said Laura McElroy, a spokeswoman for the department, adding that Reeves helped set up the department's first SWAT team.
"We are not aware of any contact with the department since his departure more than 20 years ago," she said in a statement.
Peter Mayhew, who brought us the lovable character Chewbacca in the "Star Wars" films, has shared some great behind-the-scenes images captured while the actor was part of the iconic franchise. The Wookie has a great eye for historical photography.
Mayhew took to Twitter
 on Tuesday night under his handle @TheWookieRoars, and started things off with the hashtag #nostalgic. Over the next few days, he tweeted photographs of himself along with "Star Wars" creator George Lucas and co-stars Harrison Ford, Mark Hamill and Carrie Fischer. Darth Vader, Yoda, C-3PO, Obi Wan Kenobi and some memorable sets and props are also seen.
For some reason, pictures of a bikini-clad Princess Leia drew the greatest response from "Star Wars" fans monitoring Mayhew's feed. And the actor's wit in writing
 captions for the images is evident throughout.
A backlot, a bottle of wine, and the ever alluring @CarrieFFisher. The rest of this set stay in the archive :)
8:53 PM – 7 Jan 2014
Ok, you lot really like pics of a certain princess! Here's one of Carrie and her stunt double. You're Welcome.
After the first dozen scaldings we learned not to bother @realbdw until after his first cup of coffee…
They said the Wampas were the most dangerous thing on Hoth, but they had forgotten the frost giants…
Peter Mayhew        ✔ @TheWookieeRoars
Sometimes the pressure of performing weighed heavy. Should I say "AWWWROOO" or "AARRAGH-ROOO?
The craft services truck was late that day, and Zazzle looked so…darn….tasty!!!
"Really? The dark side has cookies?" "Yes, Luke. So many cookies."
Whose a cute little Sith Lord? You are, Yes you are, now give us a kiss!!!
Anthony getting relief from the blazing sun.
I love this picture. Stuart Freeborn and Yoda having their makeup done by Irvin.
Wait! That's my one and only with a cheap mechanical substitute!
Peter Mayhew        ✔ @TheWookieeRoars
Practicing before they broke out the real lightsabers. Those things were dangerous!
..met him in a swamp down in Dagobah Where it bubbles all the time like a giant carbonated soda.<3 love @alyankovic!
We all go a little crazy, sometimes.