Archives For Veterans
1. It's Time to Bring Home Jim Thorpe
2. Video: Hoopa Home Chef Cooks Up Holiday Stuffing
Hoopa Home Chef Meagen Baldy toasts some croutons to make holiday stuffing.
3. Winter Solstice: Welcoming the Return of the Light Across Turtle Island
A cup-shaped moon heralds the winter solstice, and storytelling season begins.
4. A Decorated Veteran With the Heart of a Teacher and the Eyes of Geronimo
Michael Cano, with his wife, is the great-grandson of Geronimo, a Vietnam War veteran, and professor at the University of La Verne. He was recently named the 2014 67th Assembly District Veteran of the Year.
5. Domestic Violence: The Moment You Realize That Enough Is Enough
It's not so much a lightbulb but an aurora borealis of an epiphany when you realize you cannot go on like this, and it's time to leave the abuser.
6. 9 Top Sports Moments From 2014 in Indian Country
Shoni Schimmel is crowned WNBA All-Star MVP 2014.
7. Paulette Jordan: NMAI's Meet Native America Series
Paulette Jordan, a member of the Idaho House of Representatives.
8. Study: Transplanted Yellowstone herd is genetically diverse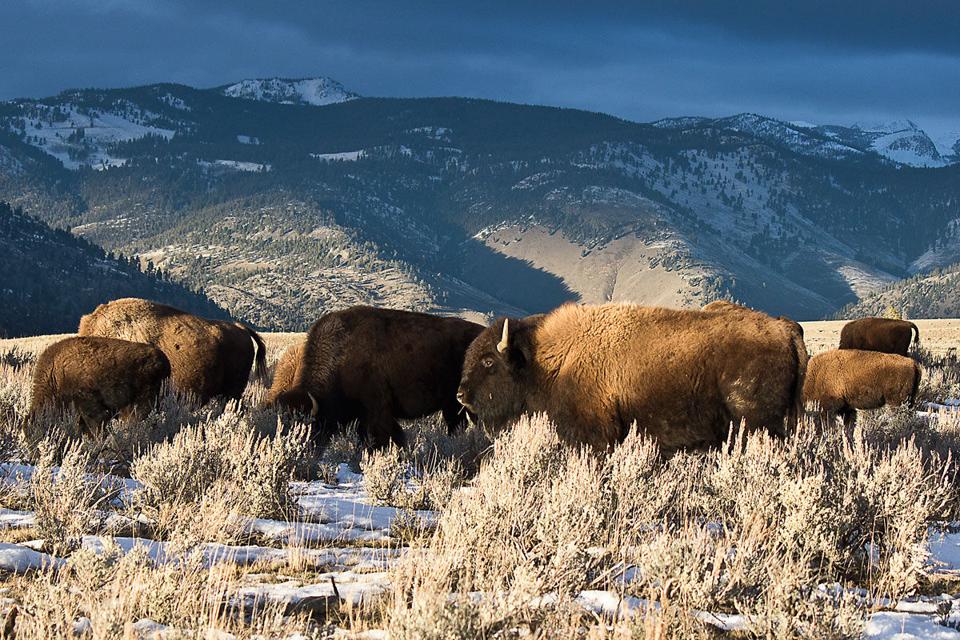 1. Native American Navy Veteran Paved Way for Career Field, Honors Heritage
Courtesy Department of Defense /Marvin Lynchard
Retired United States Navy Chief Petty Officer, Linda Old Horn-Purty, a member of the Crow tribe from the Crow Agency, Montana reservation, and the Head Woman Dancer.
2. Waste Not When Others Want: Food Recovery Efforts Are Necessary
Food Recovery Network/Facebook
The Food Recovery Network wonders what you're doing with your leftovers.
3. Sign This: Another Petition to Remove Andrew Jackson from the $20 Bill
Andrew Jackson has appeared on the $20 bill for the last 90 years.
4. 'Playing the White Man's Games': Don Marks Talks About His New Book
5. Navajo Human Rights Commission Assesses Treatment of Navajo Citizens
6. Relief at a Stiff Price I: Marketing to the Male Ego
7. Still Here, in the Big City: Meet the Legacy of the Indian Relocation Act
Photo courtesy Pamela J. Peters.
Kenneth Ramos in 'Legacy of Exiled NDNZ.' Photo courtesy Pamela J. Peters.
8. Greenpeace Apologizes for Wrecking Nazca Lines as Peru Prepares Criminal Charges
Greenpeace wanted to catch the eyes of those in power with this sign. But it caught attention for the wrong reasons, by damaging one of Peru's most famous and precious archaeological sites.
9. Blackhorse: Fake Chiefs, Headdresses and the Tomahawk Chop Must Go
girlsbestphriend.files.wordpress.com
Faux headdresses and the Indian caricature-perpetuating tomahawk chop is common at Cleveland Indians and Florida State Seminole games.
10. Hawaii Native Wins First Heisman Trophy for Oregon Ducks and for Hawaii
Marcus Mariota is the first football player from Hawaii to win the Heisman Trophy.
11. La Push Kush, Lummi Yummy, Apache Gold? When the Rez Smoke Shop Goes to Pot
Images: Wikimedia Commons
Will the stereotypical cigar store Indian soon be known for selling a different kind of buzz?
12. Nez Perce Member Tapped to Oversee CRITFC's Fishery Science Department
Courtesy Columbia River Inter-Tribal Fish Commission
Dr. Zachary L. Penney, a member of the Nez Perce Tribe, has been selected to lead the Fishery Science Department of the Columbia River Inter-Tribal Fish Commission.
Angus M. Thuermer Jr./WyoFile
This valve on a gas tank near the town of Pavillion, Wyoming, is an example of a source for potential leaks. A new study indicates dangerous toxins are present at oil and gas facilities near homes and communities.
Deborah Parker, a council member for the Tulalip Tribes of Washington, shares a warm moment with Vice President Joe Biden after introducing him. VP Biden attended the conference for the first time this year.
Mason Fine, Cherokee, is the Gatorade Oklahoma Player of the Year.
Thinkstock/Benjamin Howell
Women are powerful and sacred. It's easy to forget that when faced with abuse.
Cherokee Elder Steve Downing Jr. shares stories from his childhood.
Clyde Paul Hillis in Vietnam
Mexican Zapatista rebels are showered with rose petals as they arrive to the Nativitas forest in Xochimilco, Mexico, on the southern edge of Mexico City, Friday September 12, 1997.
Paul Chiasson/Canadian Press
A monument to the 14 female nursing students who were victims of the 1989 massacre at l'École Polytechnique de Montréal, in Quebec.
A woman named Becky tells a very personal story of cultural genocide and removal.
Ryneldi Becenti (Navajo) was one of the first Native American women to play in the WNBA.
Seeking environmental justice for Indigenous Peoples and others through the elimination of discrimination at CERD in Geneva.
1. $4 Washington Football Team Tickets? Yep, It's True
2. Keene: Why 'Fix' Tiger Lily? Why Can't We Just Let Her Go?
NBC aired 'Peter Pan Live!' on prime time TV Thursday.
3. Native Humor: 10 More Signs She May be 'Too Rez' For You, Bro
Careful, soldier boy, you don't know what you're getting yourself into.
4. Wrangler National Finals Rodeo Kicks Off in Las Vegas
Kassidy Dennison, front, with Dustin Bird, Erich Rogers and Aaron Tsinigine tweeted this selfie on December 2, 2014, a few days before the NFR began.
5. What's Next After 'Navajo Star Wars'? Hint: It's a Little Fishy
Read more at
http://indiancountrytodaymedianetwork.com/2014/12/05/whats-next-after-navajo-star-wars-hint-its-little-fishy-158152
6. Obama Names Two Tribes Among 16 Climate Action Champions Nationwide
Read more at
http://indiancountrytodaymedianetwork.com/2014/12/05/obama-names-two-tribes-among-16-climate-action-champions-nationwide-158145
7. Wisconsin Closes Wolf Hunt Three Months Early, With Quota Exceeded
Jayne Belsky/Wisconsin Department of Natural Resources/Associated Press file photo
A gray wolf in Wisconsin. The quota has been exceeded, and the sanctioned wolf hunt is over three months early.
8. 'Freedom Has to Be Fought For': Brothers in Vietnam and Life Pt. 1
The Hillis boys. Pictured from left to right: Alan (who did not serve), Russell, Lowell, Clyde, Mervyn, and Carl.
9. Quapaw Tribe Says Federal Government OKs Casino Expansion, Makes Landmark Decision
10. Photo: Highlighting Native Music's Big Night
11. Sundance Picks 'Songs My Brothers Taught Me,' a New Film Set on Pine Ridge
Photo by Eléonore Hendricks, source: facebook.com/songsmybrotherstaughtme
ShaMauri Hawkins, Jared Reddy and John Reddy of 'Songs My Brothers Taught Me.' Photo by Eléonore Hendricks, source: facebook.com/songsmybrotherstaughtme
12. Suspect Killed Outside Choctaw Casino After High Speed Chase
13. Alaska Natives to British Columbia: Please Tighten Up Your Mining Act
Can you blame them? Alaska Natives, fishery operators and environmentalists fear that British Columbia's mining regulations are too lax and could threaten tourism and fisheries.
14. Photo Gallery: Tree Lighting and Dancing in the Capitol
15. 'Scars of Deception' Tells the Story of Forced Sterilization of Indigenous Women in Peru
Feminists denounced the violation of rights of thousands of Peru under President Fujimori.
16. NCAI's Cladoosby on Tribal Nations Conference and Building a Lasting Legacy
NCAI President Brian Cladoosby, center, with White House secretaries during the 2014 White House Tribal Nations Conference on December 3.