Archives For Comedy
My Poem of the Day
(08/11/14)
A Final Goodbye
My depression held me prisoner
Alcohol soothed the pain
Alcohol became a problem
Those I love were more important
So drinking was forgotten
But depression still lingered about
Work kept me busy
I was definitely a lucky man
Still something was missing
I tried hard to push it out
But sometimes
No matter what you do
There are somethings that just never get worked out
So I chose my way out
I know I'll leave you crying
I know you will be disappointed
But my pain was just too unbearable and I just wanted out
I chose to meet my maker
I'm sorry to leave you behind
But if I'm lucky
Someday we'll meet again
And maybe just maybe
You'll find a way to forgive me
Until then
I'll spend my time healing
And begin to feel better
about who and what I am
Goodbye my love
Until we meet again
---
A Final Goodbye©
This Poem is Dedicated to the memory of Robin Williams
A Man that I will forever look up to. May he now find the happiness that was missing.
1. Robin Williams – Live At The Met – Alcohol/Marijuana
2. Robin Williams – Weapons Of Self Destruction
3. The Survivors
4. Bicentennial Man
5. Good Morning Vietnam
6. BREAKING NEWS: Actor Robin Williams Found Dead In His Home; Suicide Suspected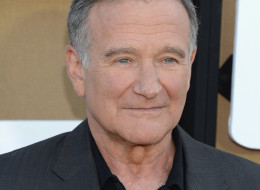 R.I.P. – You were a big part of my life growing up.  We even shared the same
name until I legally changed mine so I could have my identity separate
from yours. You were a truly amazing person both inside and out. I will miss
Your presence in every way. I hope you can now find the happiness you were
searching for, if only there could have been another way. Good-bye old friend.
Felina Silver Robinson
1. Eddie Griffin – Voodoo Child
2. Robin Williams – Weapons of Self Destruction
3. "The Diceman Cometh" – Andrew Dice Clay
1. Real Estate: Renee Zellweger selling Connecticut country home
2. TV: Jimmy Fallon faces the music on 'Tonight': Robin Wright has better moves
3. Music: Surprise! Weird Al makes music history — and Willie Geist's day
4. Music: Beyoncé re-records 'Crazy In Love' for 'Fifty Shades of Grey' soundtrack
5. Pop Culture: Seniors re-create classic movie and TV scenes for awesome calendar
6. People: Peaches Geldof's death was drugs-related, coroner rules
7. Pop Culture: From 'Simpsons' to 'SNL,' pop culture loves 'Fifty Shades of Grey'
8. Celebs: Kelsey Grammer is dad to new baby boy, Gabriel
9. News: Keep cruise ships out of Venice, celebs demand
10. TV: 'Better Call Saul' billboard rings true for Albuquerque residents