1. Planet Earth 100 Million Years In The Future – What will happen to our world?
2. Years of Living Dangerously Premiere Full Episode
3. Beyond GMOs: What happens when synthetic DNA comes to the farm and table?
4. Harper government tracking hundreds of peaceful protests
"Don't be fearful of us—we just want to become a part of larger Canada," said Chief Joe Alphonse of Tsilhqot'in Nation
5. The Pacific Starfish Die-Off Continues, but There Is New Hope
6. Fair-Trade Condoms: Latex That Lets You Love The World
7. Sitting on danger? Duke University study shows evidence of exposure to furniture flame retardant in moms, toddlers
8. With Ebola crippling the health system, Liberians die of routine medical problems
9. China's polluted air may be affecting Fresno
10. Thirsty wells: Fracking consumes billions of gallons of water
11. UK weather: Britain must be prepared for 'worst droughts in modern times'
12. Arctic ice cap in 'death spiral'
13. Push for new pact on climate change is plagued by old divide of wealth.
14. De Blasio orders a greener city, setting goals for energy efficiency of buildings.
15. California town faces life without water.
16. King Fire Update: Massive Force Battles Blaze; Smoke Spreads Over Wide Area
17. In Maine, scientists see signs of climate change
As Uganda Heats Up, Pests and Disease Flourish to Attack its Top Export Crop
19. Losing Ground in Louisiana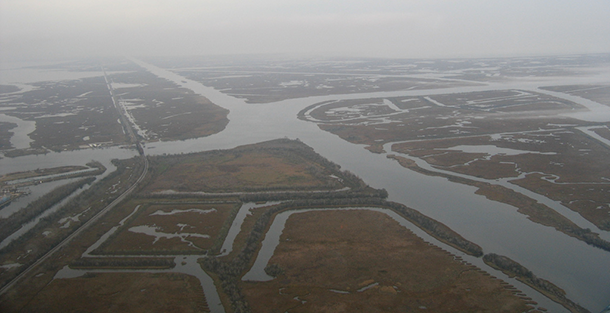 20. Work goes on to improve water quality of Wabash River as algae rob some parts of much life
21. Berkshire Regional Planning Commission not sold on Housatonic River cleanup strategy
22. Moment of truth: Study to impact farm phosphorus rules
23. Chemical giants want stronger federal law
24. Ford dump site in St. Paul draws attention from state, river advocates
Automaker has been asked to study the prospect of removing a riverside mound of waste
25. EPA proposes changing standards on pesticides and farm workers
Opinions divided on impact
26. With unhealthy stream pollution, Jones Falls targeted for restoration and maintenance projects
Two action plans for area watershed have been approved, and third could be coming soon
27. Tossed cigarettes new pollution target of Coastal Cleanup Day
28. Shellfish farmers: Willapa Bay herbicides 'work tremendously'