Archives For Award
Unflinching slavery drama "12 Years a Slave" took home the Oscar for best picture at Sunday's Academy Awards, and its star Lupita Nyong'o added to the film's trophy case by claiming the best supporting actress award.
Mario Anzuoni / Reuters
Best actor winner Matthew McConaughey, best actress winner Cate Blanchett, best supporting actress winner Lupita Nyong'o and best supporting actor winner Jared Leto pose with their Oscars.
"Everyone deserves not just to survive, but to live," director Steve McQueen said when accepting the award. "I dedicate this award to all the people who have endured slavery and the 21 million that still suffer slavery today."
London-born McQueen is the first black director to take home a best-picture award.
In a teary, heartfelt speech, Nyong'o saluted her enslaved character, Patsey, and Solomon Northup, the free black man who was kidnapped and sold into slavery in 1841, and wrote the memoir upon which the film is based. The film also won the best adapted screenplay award.
Fans of Matthew McConaughey are feeling "alright, alright" after the actor proved the road to "McConaissance" is indeed paved in Oscar gold when he won the best lead actor award for "Dallas Buyers Club," in which he plays Texan Ron Woodroof, who smuggled unapproved drugs into the United States to fight AIDS.
McConaughey, who was at one time known for his turn in rom-coms, showed off some of his charm when he gave a nod to his late father, telling the audience he envisioned him dancing around in heaven with a pot of gumbo, a lemon-meringue pie, and a cold can of Miller Lite. Naturally, he closed out his speech and a stellar awards season with his iconic line from 1993's "Dazed and Confused," shouting "alright alright alright."
LUCY NICHOLSON / Reuters
Matthew McConaughey won the best actor Oscar for "Dallas Buyers Club."
McConaughey's "Dallas Buyers Club" co-star Jared Leto won the best supporting actor award for playing transgender Texan Rayon.
"This is for the 36 million people who have lost the battle to AIDS," Leto said in his acceptance speech. "To those of you who have felt injustice because of who you love and who you are, I stand here with you and for you."
Lucy Nicholson
Hollywood's brightest stars gather to celebrate the biggest achievements in film.
But it wasn't all serious talk for Leto, who also mentioned the conflict in Ukraine during his speech. Before even winning his award, host Ellen DeGeneres joked that he was the "most beautiful" person at the ceremony (with his enviable ombre highlights and crisp tux, can you deny it?). And after he won, backstage observers reported that he was passing his Oscar around and allowing others to be photographed with it — until Academy officials requested he stop.
As expected, Cate Blanchett took home the best lead actress Oscar for her role in Woody Allen's "Blue Jasmine." Although Allen made headlines lately regarding molestation allegations involving his adoptive daughter Dylan Farrow, Blanchett acknowledged him in her acceptance speech, saying, "Thank you so much Woody for casting me, I appreciate it."
It was Blanchett's second Oscar, coming a decade after her 2004 best supporting award for "The Aviator."
On a fairly predictable night, DeGeneres lightened things up with some surprises — taking a celebrity-studded selfie, having pizza delivered to the audience, and suddenly appearing in full pink pouf as "Oz's" Glinda the Good Witch.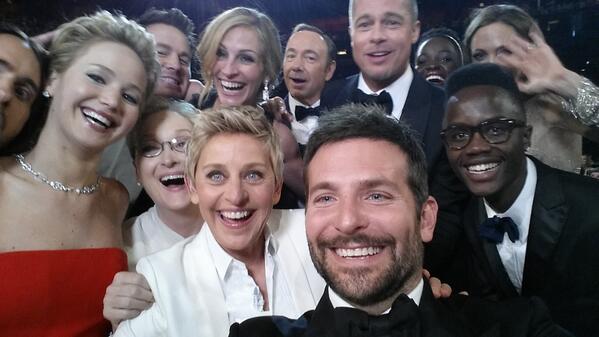 If only Bradley's arm was longer. Best photo ever. #oscars
That's not to say the broadcast was completely safe. Degeneres did get some jabs in: She praised 84-year-old nominee June Squibb, and then raised her voice and spoke slowly and loudly to the actress as if speaking to a hard-of-hearing elderly person, saying, "I'm telling everyone that you were wonderful in 'Nebraska.'" The audience, and more importantly Squibb, all got a good laugh.
Her sharpest dig of the night was a tweak of Oscar-winner Liza Minnelli, there to honor her mother Judy Garland's movie "The Wizard of Oz." As the camera cut to Minnelli, DeGeneres praised "one of the most amazing Liza Minnelli impersonators I have ever seen in my life. … Good job, sir."
The night was exceptionally starry for space drama "Gravity," which claimed numerous technical awards and the best director statuette for Alfonso Cuaron, the first Latino to win in that category.
Jordan Strauss
From dazzling gowns to sophisticated tuxedos, see which styles dominated the red carpet at the 86th annual Academy Awards.
Cuaron thanked star Sandra Bullock, saying "Sandy, you're 'Gravity.' You're the soul, heart of the film. … One of the best people I've ever met."
"Gravity's" awards included best film editing, cinematography, sound editing, best score, sound mixing and visual effects.
Disney blockbuster "Frozen" claimed the best animated feature film Oscar, and its hit song, "Let It Go," won for best original song. "Happy Oscars to you, let's do 'Frozen 2,' sang husband-and-wife winners Kristen Anderson-Lopez and Robert Lopez. The song was performed live, in a much-awaited performance, by Broadway star Idina Menzel, who voices and sings the role of Queen Elsa in the movie. Menzel took the stage after actor John Travolta mangled her name, sparking plenty of jokes on social media.
Other winners were:
Spike Jonze won the award for best original screenplay for "Her."
"Mr. Hublot" won for best animated short.
"Helium" for best live-action short film.
"The Lady in Number 6," about Alice Herz Sommer, a Holocaust survivor and concert pianist who died Feb. 23 aged 110, won for best documentary short subject.
"20 Feet from Stardom," which focuses on the backup singers behind musical legends, won for best documentary feature.
Italy's "The Great Beauty" won for best foreign-language film.
Adruitha Lee and Robin Mathews of "Dallas Buyers Club" won the award for makeup and hairstyling.
Catherine Martin won the costume design Oscar for "The Great Gatsby," an award also won by the 1974 film version of "Gatsby."
Harris Hasty Pudding 2014 Man of the Year
CAMBRIDGE, Mass. — Neil Patrick Harris, dressed in a wig, lingerie and red heels, took the stage at Harvard University on Friday to accept the 2014 Man of the Year Award from America's oldest undergraduate drama troupe.
The "How I Met Your Mother" star cast a few spells, saved someone's life and sang a jingle from "Rent" before being awarded the Hasty Pudding Theatricals' annual Pudding Pot.
Photos: Harris accepts Hasting Pudding Pot
"I felt remarkably good in heels," Harris said after the ceremony, adding that he had spent seven hours stomping around in custom heels to practice.
Harris was showered with ridicule by the show's roasters, who said he was best known for 200 episodes of "crappy" television.
The Emmy Award-winning actor has spent 25 years in entertainment playing roles in TV, in film and on stage, where he has sung, danced and even performed magic tricks. He also has hosted the Tony and Emmy awards.
One of the roasters said, "Those who can't do host, and those who can't host host the Spike TV Video Game Awards," which Harris hosted in 2010.
Harris, who has appeared in the "Harold & Kumar" and "The Smurfs" movies and has starred in three Broadway plays, is most recently known for his role as suave ladies' man Barney Stinson on "How I Met Your Mother," a hit CBS comedy in its ninth and final season. He said he broke Barney's bro code on Friday night by kissing two guys in dresses on the lips.
In his earlier days, Harris played a teenage doctor on the TV comedy "Doogie Howser, M.D." He had to tap into his medical expertise on stage Friday to save a choking Jason Segel, his "How I Met Your Mother" co-star, who won the Pudding Pot award two years ago.
Harris said chuckling that Segel gave him a joke to use for Friday's show but forgot to mention that he used the same joke when he was in Cambridge to accept his award.
After Friday's roast, Harris attended the theatre's debut production of "Victorian Secrets," a play about a secret society of Harvard students in the 18th century.
The 2014 Woman of the Year was "Red" and "The Queen" actress Helen Mirren, who visited Harvard last week to accept her award and showed off her twerking skills.
By Todd Leopold CNN
Stars light up red carpet
(CNN) —"American Hustle" has stepped up its game.
The comedic film, loosely based on the Abscam scandal of the late '70s, received just two nominations at the 20th Annual Screen Actors Guild Awards Saturday night, but it won the big one: outstanding performance by a cast in a motion picture.
Star Bradley Cooper, practically yelling his approval, paid tribute to director David O. Russell for the film.
"Hustle" and "12 Years a Slave" are among the leading Oscar nominees, and at the SAG Awards the two films faced off for outstanding ensemble — the SAG Awards' equivalent of Oscar's best picture. Last week, "American Hustle" won the Golden Globe for best comedy or musical film; "12 Years" took home that award for best drama.
"12 Years," about a freeman forced into slavery in 19th-century America, led all SAG Awards nominees with four nominations.
Other winners established themselves as Oscar front-runners as well.
Matthew McConaughey of "Dallas Buyers Club" took home the Screen Actors Guild Award for outstanding performance by a male actor in a leading role Saturday night. He plays an AIDS-afflicted man in the film.
He won the Golden Globe for the same role last week.
Cate Blanchett, who also won a Globe, won the SAG Award for lead female actor.
For Oscar watchers, the awards offer a key indicator of which way the wind is blowing among members of the Motion Picture Academy. The actors' branch is the largest of any of the academy's voting blocs.
The Academy Awards are scheduled for Sunday, March 2.
Winfrey: 'We do movies to move people'
Lupita Nyong'o and Jared Leto led off the awards by winning prizes for supporting female actor and supporting male actor, respectively.
Leto, who stars as a transgender woman in "Dallas Buyers Club," paid tribute to those who have been victims of AIDS, "that terrible disease."
Nyong'o, who plays a slave terrorized by a plantation owner in "12 Years a Slave," won over competition that included Oprah Winfrey ("Lee Daniels' The Butler") and Jennifer Lawrence ("American Hustle").
Winfrey addressed the controversy about not being nominated for an Oscar with CNN's Nischelle Turner on the red carpet.
After praising all the other supporting actress nominees, she pointed out that "The Butler" — a box-office success — has had an impact.
"We don't do movies to get awards," she said. "We do movies to move people."
Rita Moreno accepted the Screen Actors Guild's Life Achievement Award on Saturday night.
She and presenter Morgan Freeman fell into their old "Electric Company" roles, pronouncing out "SAG-AFTRA."
Then Moreno got serious.
"It's early in the third act of my life," the 82-year-old Moreno said, and then went into a snippet of "This Is All I Ask": "Let the music play as long as there's a song to sing / And I will stay younger than spring."
'Breaking Bad,' 'Modern Family' win TV honors
Like the Globes, the SAG Awards also nominate television performers.
Nominees for ensemble in a drama were "Boardwalk Empire," "Breaking Bad," "Downton Abbey," "Game of Thrones" and "Homeland."
"Modern Family" won comedy series ensemble. It's the show's fourth straight SAG Award.
"Veep's" Julia Louis-Dreyfus and "Modern Family's" Ty Burrell won SAG Awards for their performances in TV comedies. Michael Douglas ("Behind the Candelabra") and Helen Mirren ("Phil Spector") also took home trophies.
"Breaking Bad" won drama series ensemble and star Bryan Cranston took home the award for male actor in a drama.
Members of the cast of "Downton Abbey" knew what was coming. Before the show, they responded in unison when asked who was going to win.
" 'Breaking Bad,' " they told CNN.
But "Downton's" Maggie Smith did win for female actor in a drama series.
For performers, the Screen Actors Guild Awards represent recognition from their peers. The trophy is even called "the Actor."
But the red carpet gave those performers some challenges.
Sarah Paulson, who was nominated as part of the ensemble with "12 Years a Slave," was dressed in a somewhat flowy white dress. Complimented on the look, she could only laugh.
"(People will say), what's with your weird princess dress?" she said.
And Lawrence had the line of the night for every person who's ever had to get uncomfortable to look good.
Her Dior couture gown, she said, was "squeezing my breasts into my armpits."