Archives For Animal Cruelty
1. Grandmother celebrates 90th birthday with skydive 
2. BFD: Gas leak caused house blast that sent 11 to hospital
3. 6-alarm fire breaks out at apartment complex
4. Framingham man charged with raping 5-year-old
5. Girl finds pet puppy hanging from tree with noose around neck
6. Men claiming to be police officers force way into home

7. Iranian Killer's Execution halted at last minute by victims parents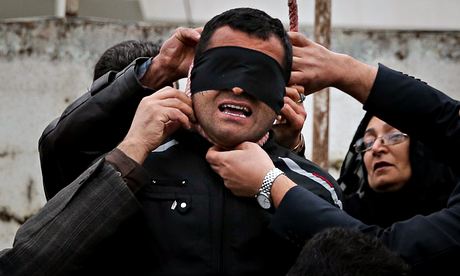 Animal found off Jennings Beach
FAIRFIELD, Conn. — Fairfield officials are investigating a severed sheep head found in the water off a local beach.
Authorities say the animal head was found off Jennings Beach on Wednesday, a year after a headless goat carcass was found at the same beach. A veterinarian is examining the sheep head.
Police told the Connecticut Post that they don't suspect the head is linked to sinister activities.
Fairfield animal control officer Paul Miller says the head appears to have been severed with a butcher's knife and one of the sheep's ears was notched, indicating it was livestock. But there was no identifying tag.
In March of last year, a jogger discovered a goat carcass missing its head and lower legs inside a clear garbage bag that was dumped along the water's edge.
Lowell man faces animal cruelty charges
LOWELL, Mass. — A Lowell dog owner faces animal cruelty charges after his German shepherd was found with duct tape wrapped around its muzzle.
Lowell police were called to 15 Grand St. after someone reported seeing a dog with tape over its mouth, the Lowell Sun reported.
The owner told police the family became overwhelmed by the dog when it got much bigger and harder to handle than they anticipated, the paper reported.
Police said other than the tape, the dog appeared to be in good condition and well cared for.
Animal Control took possession of the dog pending the outcome of the criminal case.
The owner will be summonsed to court to face a single count of animal cruelty, police said. His name has not been released.
ARL, MSPCA treating rescued animals
BOSTON — Almost 200 animals were rescued from a Lynnfield home last month in one of the largest hoarding situations in recent years, the Animal Rescue League of Boston and Massachusetts Society for the Prevention of Cruelty to Animals said.
A wide range of animals including dogs, cats, birds and reptiles lived in unsanitary conditions stacked in cages and crates in different areas of the home, officials said.
All of the 199 animals were voluntarily surrendered to the ARL and MSPCA-Angell.
The animals are being treated at ARL and MSPCA-Angell for various health issues resulting from neglect, officials said.
"When people suffer from the complex psychological conditions that lead to animal hoarding, they become overwhelmed with caring for all the animals they accumulate," said the ARL's Dr. Martha Smith-Blackmore.
The Pat Brody Shelter for Cats in Lunenburg and Jabberwock Reptiles of Winchester also are caring for some of the rescued animals.
The six dogs and 13 birds remaining at the ARL's shelters continue to make progress in their recovery. The Boston shelter has already begun to identify potential adopters for the shy, but very sweet dogs, officials said.
Pappas says he regrets role in incident
NASHUA, N.H. — Nashua Police Commissioner Tom Pappas has resigned his position after helping a state representative who ran over and killed several ducks in December.
Pappas said in a letter to Gov. Maggie Hassan that he regrets his role in the incident.
"I deeply regret my part in the events of December 23, 2013, and apologize to you, the Nashua Police Department and the public for the disruption that has occurred as a consequence of them," he said in the letter.
In December, state Rep. David Campbell, D-Nashua, ran over and killed several ducks outside the Crowne Plaza Hotel. Campbell left the scene before police arrived. Pappas later made a call to the police department, saying Campbell was a friend and asking if it was OK if he came in for questioning the next day.
Police agreed, but the Attorney General's Office is investigating whether further action is needed.
"I am determined to move forward productively and positively by cooperating in any manner necessary with the investigation being conducted by the Attorney General's Office," Pappas said in his resignation letter.
Nashua Alderman Ken Siegel of Ward 9 said Pappas did the right thing.
"I just think he was trying to help a friend, and unfortunately he made a bad decision, and now he did the honorable thing and he resigned," Siegel said.
Siegel said Campbell should do the same.
"Not only were his (Campbell's) actions the instigation for all of this, but he's brought a good man down," Siegel said.
Witnesses claimed that Campbell was drunk, but charges weren't filed. He later paid a fine.
Quincy couple accused of killing cat in dryer
Christopher Lang and Lori Tasney plead not guilty
Read more: http://www.wcvb.com/news/local/boston-south/quincy-couple-accused-of-killing-cat-in-dryer/-/9848842/22557080/-/536305/-/index.html#ixzz2iSe2MkpF
17 pit bulls, guns, drugs, seized from Middleboro home

Police arrested a Middleboro man on numerous drug and weapons charges and seized 17 pit bulls that were stuffed into a small cage and living in squalor.
Lt. Peter J. Andrade said John Campbell, 30, of 163 Miller St., was arrested during a raid Wednesday morning by a SWAT team after a month long investigation, the Enterprise reported.
Andrade said five guns were seized, including at least two that were stolen, ammunition, $29,000 in cash, $45,000 worth of Percocet and more than 100 grams of cocaine.
Andrade said the perimeter of Campbell's home was equipped with infrared security cameras and posted with no trespassing signs.
The squalid conditions were not limited to the 13 puppies and four adult dogs, Andrade said. The home was also unclean is being inspected by the health office. The Department of Family and Children was notified because Campbell's children were living at the home, along with his wife.
Campbell is awaiting arraignment at Wareham District Court.
Moose about to cross highway shot to death Moose about to cross highway shot to death http://www.wcvb.com/news/local/moose-near-new-britain-highway-fatally-shot/-/9848876/22128992/-/tfes9az/-/index.html?absolute=true
Police are looking for the person who severely abused this puppy. The Animal Rescue League is asking for help. http://on.wcvb.com/1eseEsA